Conducting for Modern Film-Scoring
With Johannes Vogel, July 22 – 24
In this masterclass we wil take a close look on the tools needed for Modern Filmscoring.
What are the prerequisites for conducting and how to get them
Differences in conducting a concert with symphony-orchestra and conducting a recording-session
Basics in conducting-techniques/how to show the musicians with your hands what you want them to do
Preparing a recording-session
Checking scoresdealing with click-tracks
Cooperation with the protools-engineer
Cooperation with director and producers
Working under time-pressure
Terms and definitions
Stemming/striping/overdubbing
Mental condition and training
Additionally a real live recording experience will be generated with live musicians during regular class room hours.
The class is limited to 15 participants.
Prerequisites / Skills needed:
Ability to read orchestral scores. No prior conducting experience needed as this course will get you started with conducting from scratch!
Click button to the left to get to our application page which has the pricing information and takes you to the application process.
An overview of some of Johannes Vogel's recent engagements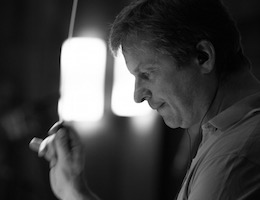 Johannes Vogel was born in 1967 in Vienna. He was educated at the University of Music in Vienna. He was working with orchestras like Vienna Philharmonic, Bayerische Staatsoper, Opernhaus Zürich, Camerata Academica Salzburg, Austrian-Hungarian Haydn-Orchestra, Ensemble Kontrapunkte etc. Collaboration with Claudio Abbado, Bernard Haitink, Lorin Maazel, Christoph v. Dohnany, Riccardo Muti, Michael Gielen, Nikolaus Harnoncourt, Thomas Hengelbrock, Christopher Hogwood, Adam Fischer, James Levine, Andre Previn, Franz Welser-Möst, Carlo Maria Giulini, Giuseppe Sinopoli, Seiji Ozawa, Pierre Boulez, Georg Solti, Leonard Bernstein, Carlos Kleiber and many more.
Now he is working as a composer/producer/conductor for Film and TV. He works closely with filmmusic-composer Fernando Velazquez. Works include "Mama", "Mariah Mundi", "The Impossible" and more.
Most recent works include "MGM/Paramount-production "Hercules" with Dwayne Johnson and director Brett Ratner,
Guillermo del Toro's "Crimson Peak" with Jessica Jastain and Tom Hiddlestone and "The Colony" with Emma Watson and Daniel Brühl.
As a composer he is also busy in scoring for TV like the very successful German show "The Mountain Medic/Der Bergdoktor" or the TV-movie "Heroes" (composer/producer/orchestrator/conductor). He also composes music for the Austrian television ORF ("Wahl-Musik", "Im Zentrum", "Thema" etc.)
Johannes is also a very busy session-conductor, mainly with the Slovak National Symphony Orchestra in Bratislava and at the new Synchron Stage in Vienna as head-conductor for productions like "Inferno" by Hans Zimmer, "The Crown" by Rupert Gregson Williams and Hans Zimmer and many more.
Follow us on Facebook and keep up to date with the latest news around the film scoring summer academy!
Our Mission
The Hollywood Music Workshop is all about bringing talented composers from around the world together in one place, and providing them with first-class courses and a very inspiring working environment. We want to establish a personal relationship between lecturers and participants and therefore let them profit from one another. We love film music and we want to provide other people with a chance of experiencing the magic of film music as well.