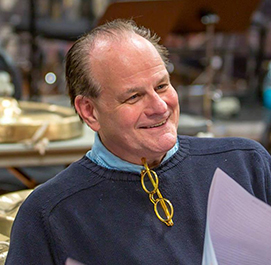 Conrad Pope has contributed to the scores of iconic films like 
the recent Star Wars films, the Harry Potter series, Jurassic Park: The Lost World, Indiana Jones and the Kingdom of the Crystal Skull, Pirates of the Caribbean, the Matrix films, The Curious Case of Benjamin Button, Moonrise Kingdom, Godzilla, and the final two Hobbit films: The Desolation of Smaug and The Battle of Five Armies.

CONRAD POPE is one of the most respected and trusted musicians working today in Hollywood. Composers such as John Williams, Alexandre Desplat, Jerry Goldsmith, Danny Elfman, James Horner and Howard Shore have all called upon his expertise as a one of the industry's top orchestrators as well as his abilities as a conductor and score producer, making him one of the most "in demand" scoring professionals.

Over his career, Pope has worked side by side with many of Hollywood's finest directors, including Peter Jackson, Mark Romanek, Walter Murch, Scott Hicks, Gary Ross, Joe Johnston and Wes Anderson. His ability to work effectively with filmmakers and concretely translate their vision into music has made him a valued collaborator.

As such, he has scored numerous independent films such as Penn &Teller's Tim's Vermeer, which garnered attention and praise from directors and critics alike. Pope was awarded the International Film Critics Award for Best Score to a Documentary in 2014 the score has won fans in the worlds of art, art music, and filmmakers.

Pope also worked with director Mark Romanek to compose the music to the pilot for the upcoming DreamWorks/ABC television series "THE WHISPERS", Steven Spielberg, executive producer.

Recently, he worked with Hans Zimmer on The Boss Baby where he composed additional music for the film, and closely works with Alexandre Desplat, most recently on Isle of Dogs as the orchestrator, arranger and conductor.

The American Society of Music Arrangers and Composers in 2015 awarded Conrad their prestigious GOLDEN SCORE AWARD in recognition of his career as composer, arranger, orchestrator, and conductor in film music.

Pope holds degrees from the New England Conservatory and Princeton University. After receiving the George Chadwick Medal, the New England Conservatory's highest honour, upon his graduation, Pope went on to study at Munich's Hochschule fuer Musik and at the Berkshire Music Centre at Tanglewood, before completing graduate studies at Princeton University.
Follow us on social media to get the latest news & informations on events & courses.
To subscribe for our monthly Newsletter please click here ..