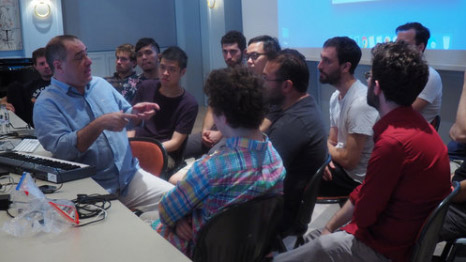 Joe Kraemer has been scoring films since the age of 15
when he composed the soundtrack for high school classmate Scott Storm's 'The Chiming Hour', a feature-length indie shot on Super 8 in 1986.  It was during this time that he first met a young writer named Christopher McQuarrie, a meeting that would lead to three career-defining projects for Kraemer: 'The Way Of The Gun', 'Jack Reacher', and  'Mission: Impossible – Rogue Nation'.

Kraemer would leave high school behind to attend the renowned Berklee School of Music in Boston to study film composition.  Kraemer's first real 'industry' gig was scoring the NBC/Warner Brothers pilot 'The Underworld', written and produced by Christopher McQuarrie, shortly following McQuarrie's Oscar win for 'The Usual Suspects'.  Though the series was not picked up, the pilot was ultimately repurposed as a TV movie, where it has gained a cult following.

In the years following 'The Way Of The Gun', Kraemer carved out an eclectic career scoring all manner of films, from documentaries to television movies to action and horror films.  He has written music for over 100 films, TV movies, episodic television, and film shorts, some 40 films just for The Hallmark Channel/Larry Levinson Productions alone! Strong melodic writing and superb dramatic sensibilities have kept him at the forefront of their rotation, and highlights include his scores for John Putch's 'The Poseidon Adventure' and 'A Time To Remember', the 'Mystery Woman' series of ten films, and westerns such as 'Hard Ground', 'Lone Rider' and 'The Trail To Hope Rose'.  He has also written the music for 'The Hitcher II' and 'Joyride 2' for director Louis Morneau, and six films with writer-producer Mark Altman, including 'House Of The Dead 2', 'The Thirst' and 'All Souls Day'.

Kraemer's close artistic partnership with Altman led to scoring duties for Altman's TV series 'Femme Fatales', a sexy homage to film noir and other genres for HBO/Cinemax. Kraemer also wrote the score for the prestigious documentary An Unreasonable Man, an Oscar-shortlisted feature about Ralph Nader for directors Steven Skrovan and Henriette Mantell.

2015 has proven to be a break out year for Joe Kraemer, with the release of 'Dawn Patrol' and the box office  'Mission: Impossible – Rogue Nation', in which Kraemer reteamed with Christopher McQuarrie and Tom Cruise.

Follow us on social media to get the latest news & informations on events & courses.
To subscribe for our monthly Newsletter please click here ..