HMW Summer Academy 2021 – Reviews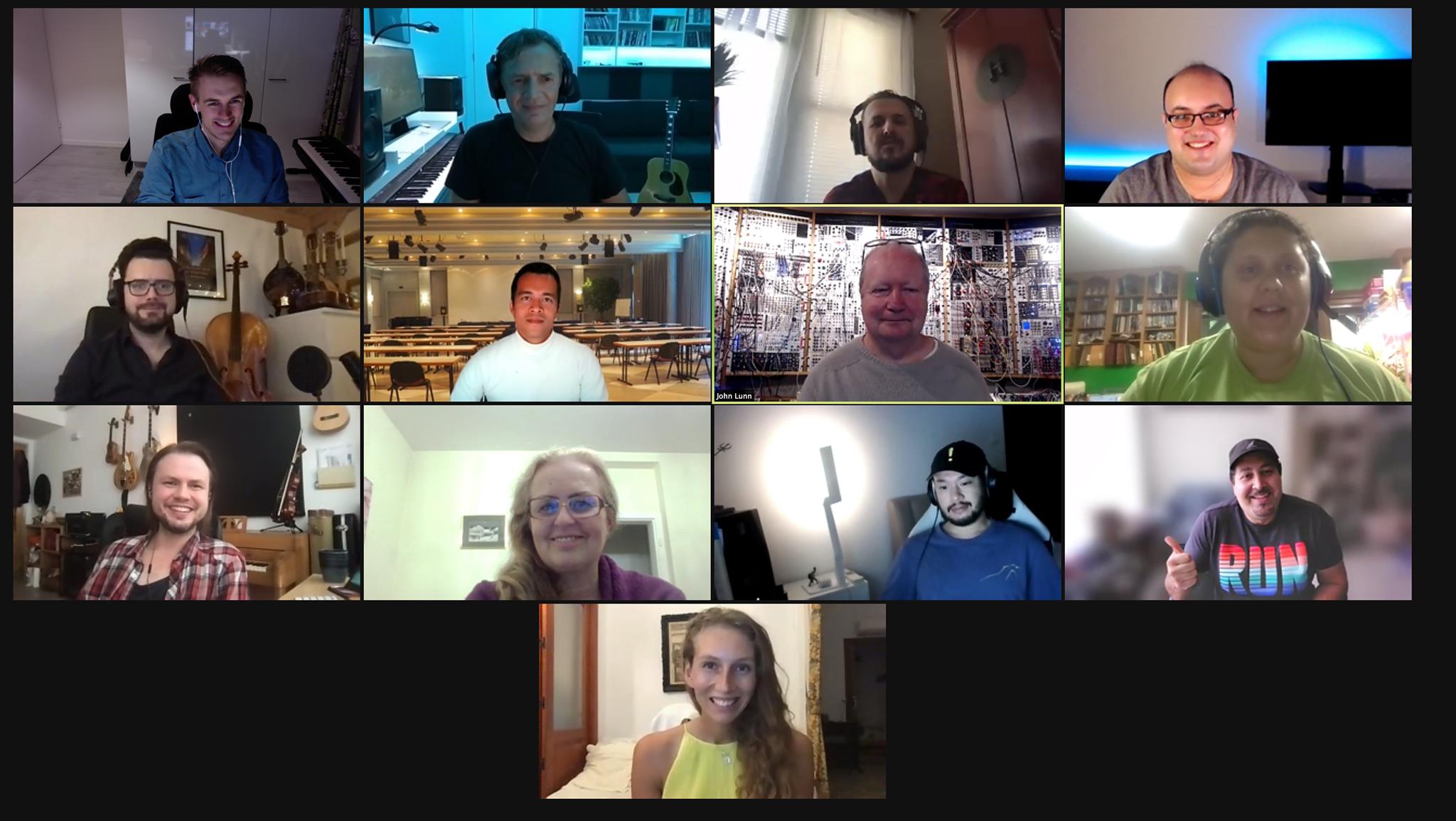 A photo from the last day of our Masterclass with renowned composer John Lunn (Downton Abbey)! The participants composed multiple cues to the scenes John provided during the lectures! And sometimes they only had 15 minutes to compose a cue they would then show the class!
Many thanks to John Lunn for being a fantastic lecturer and our sincerest thanks to each and every participant for enrolling in our class!
We're looking forward to our upcoming Zoom classes and to next year's installment of the Hollywood Music Workshop!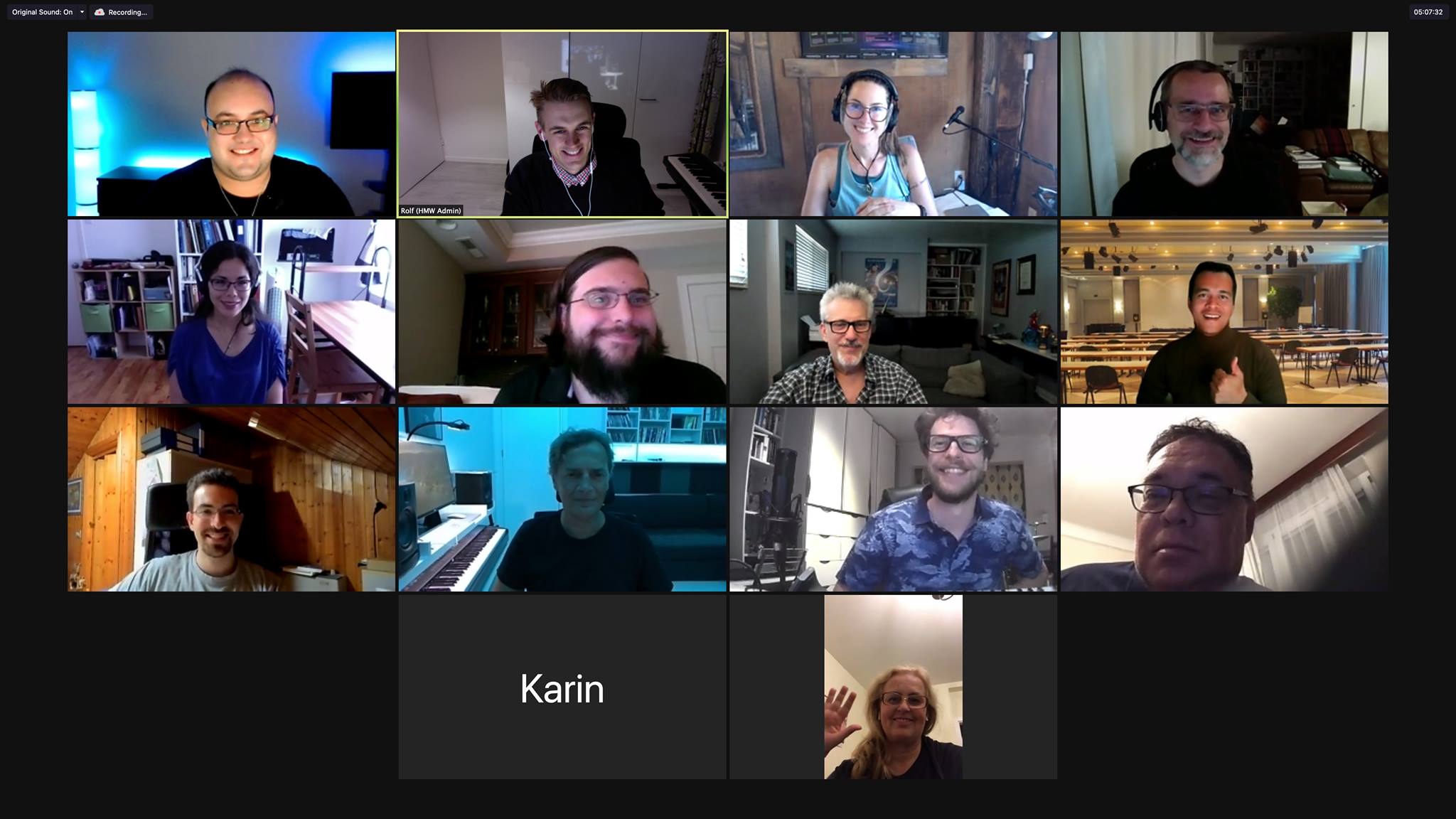 HAPPY COMPOSERS after an intensive three-day Zoom masterclass with celebrated video game composer GARRY SCHYMAN!
We were thrilled to listen to all the excellent cues our participants created during the workshop.
Networking and socializing are crucial parts of the HMW experience and especially in high demand now as we're all still forced to stay at home. Therefore, it was gratifying to see how the participants connected over Zoom to share knowledge and tips amongst each other!
Many thanks to Garry Schyman for being an absolutely awesome lecturer and to every participant for enrolling in our class!
Live-Concert "HOLLYWOOD STORIES" 2021, Baden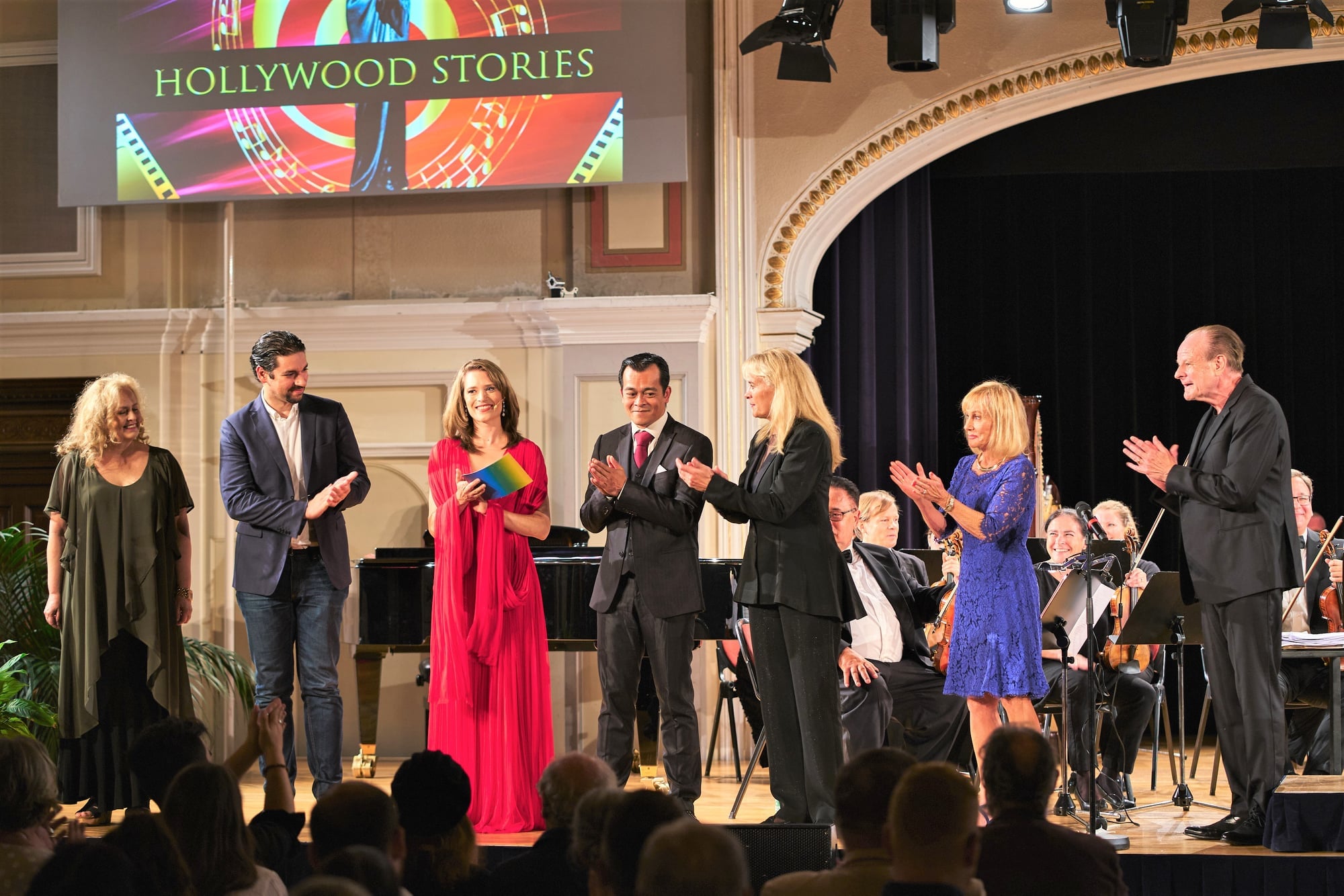 Images of our highly anticipated and extremely successful
CONCERT FINALE of HMW 2021
Aug. 20 in Baden, Austria.

General enthusiasm and a great time was had by all the participants, performers as well as sold out audience!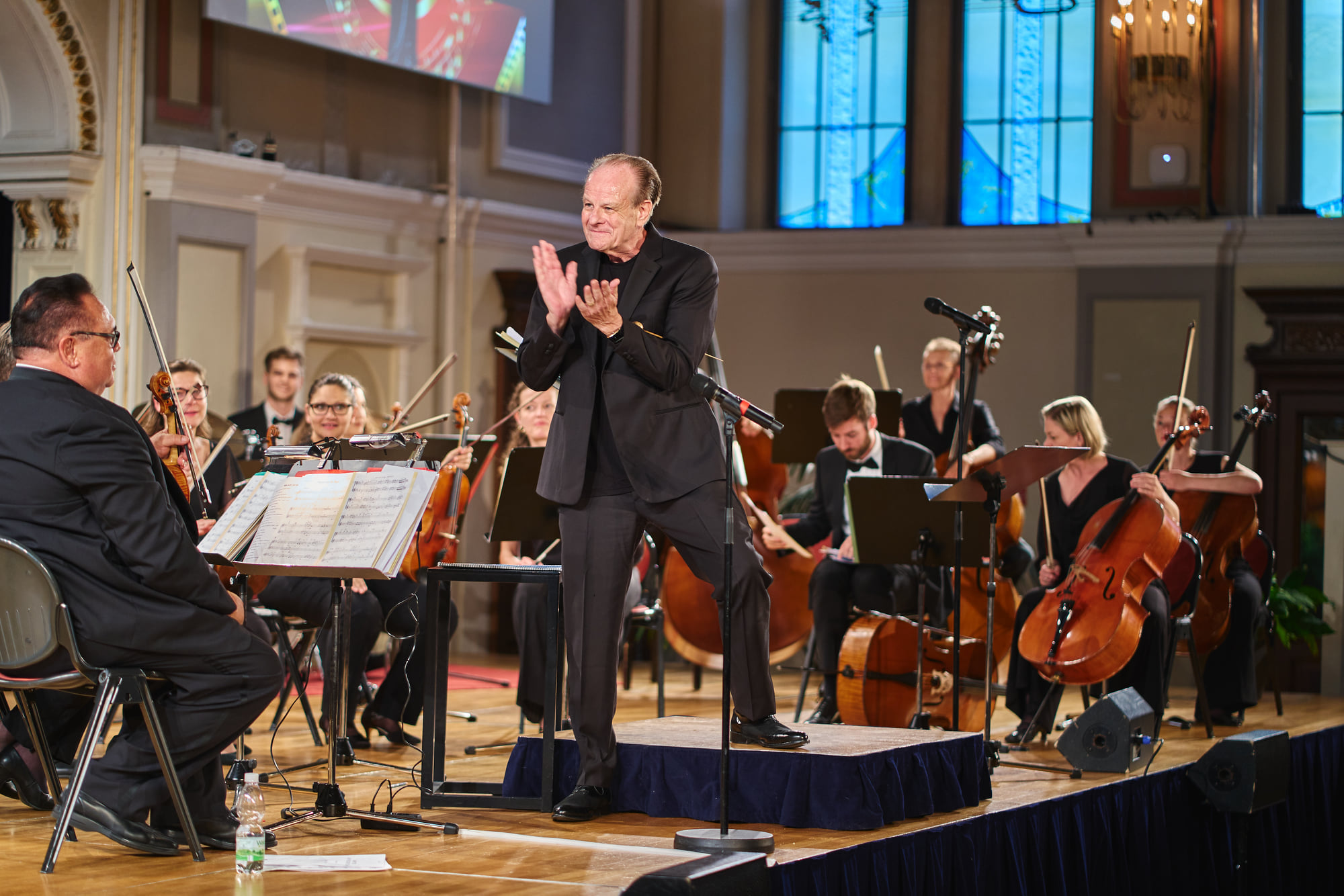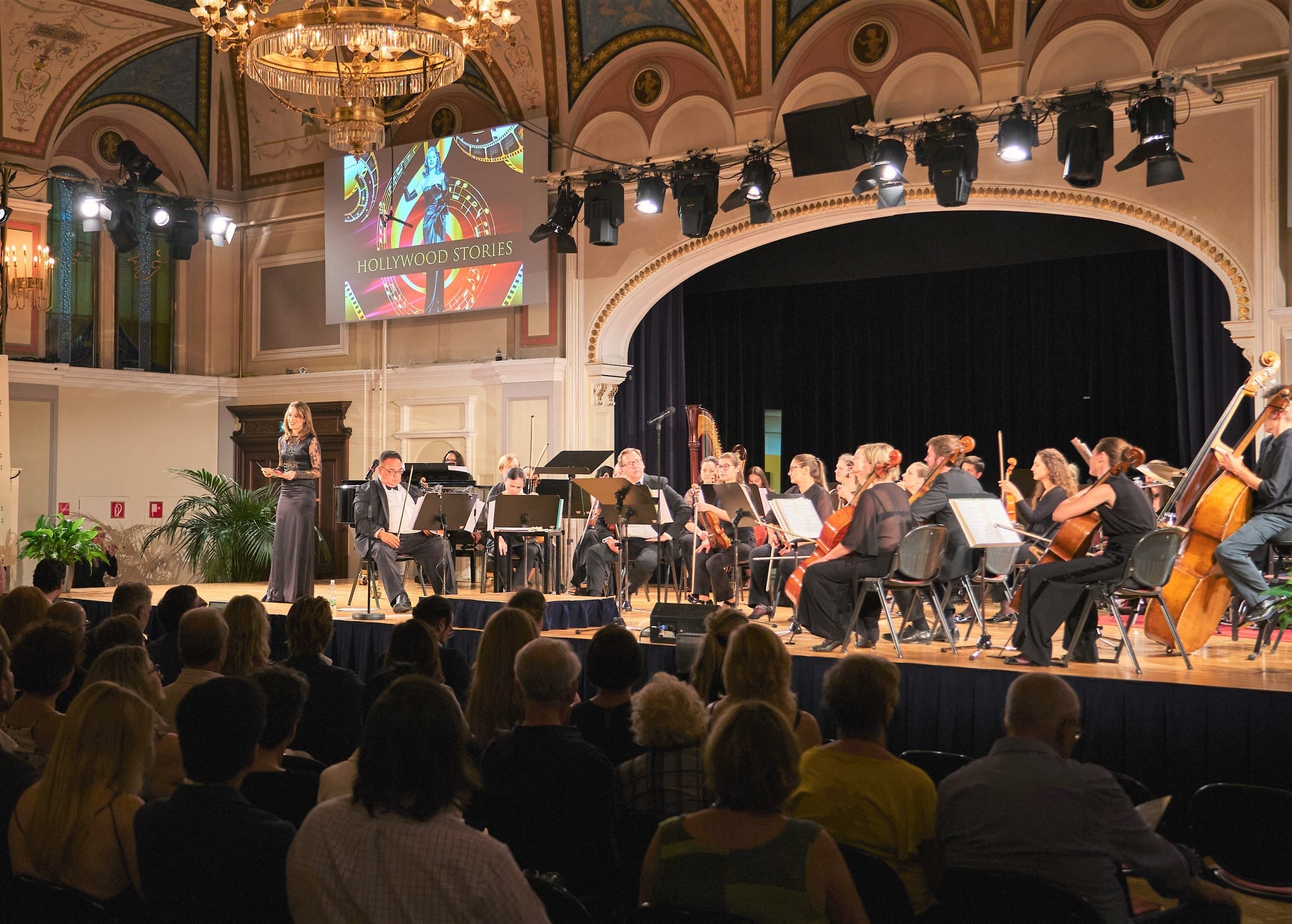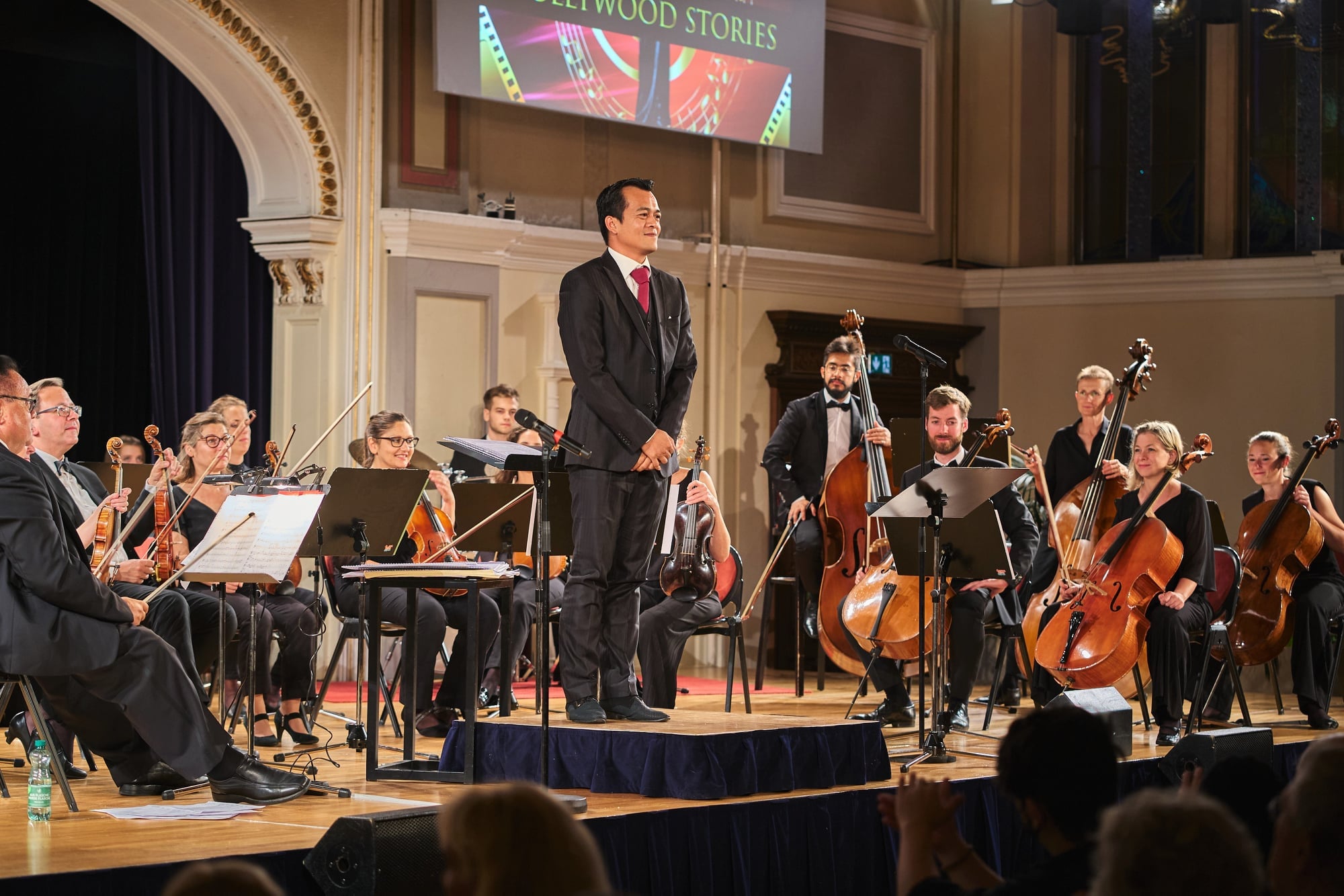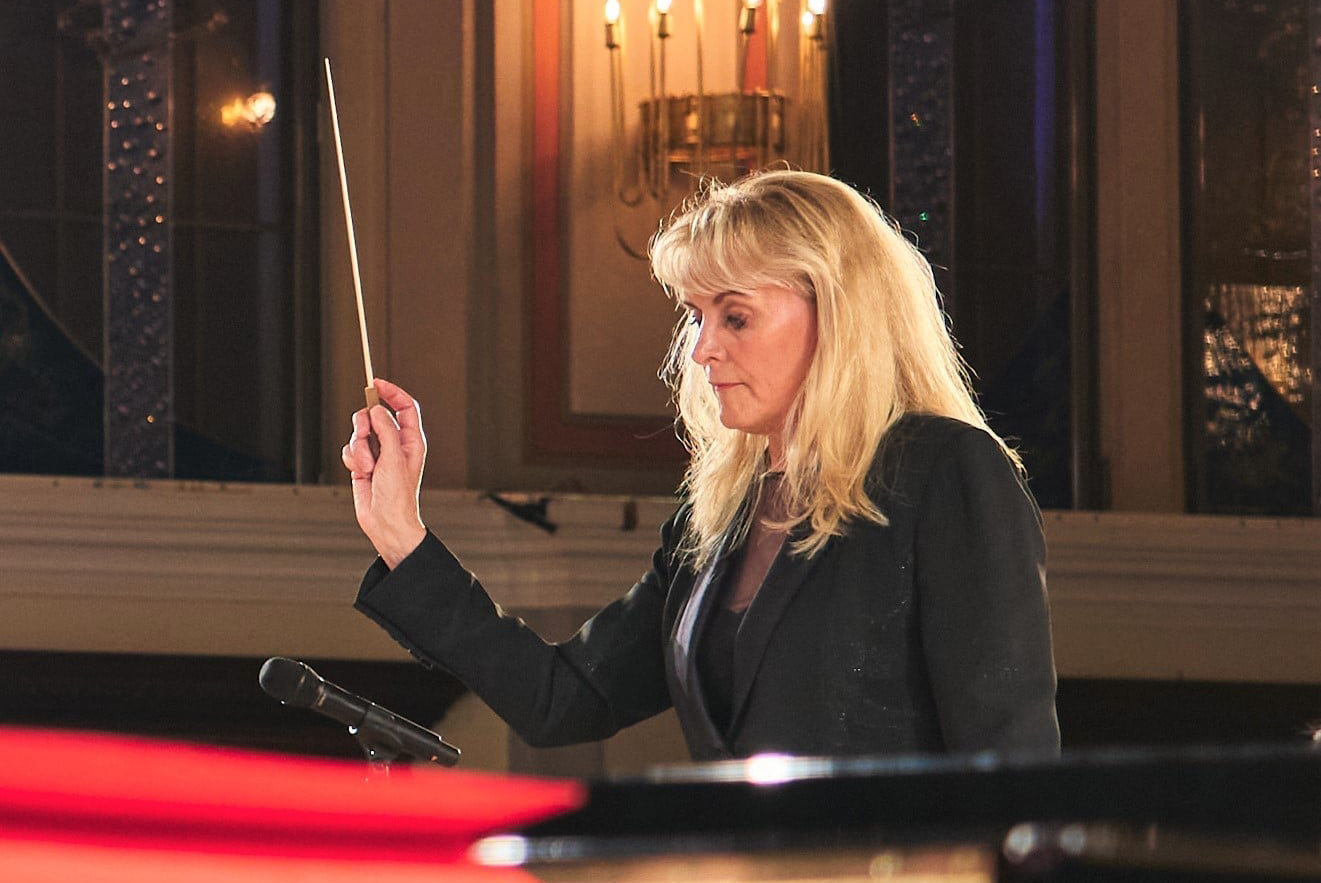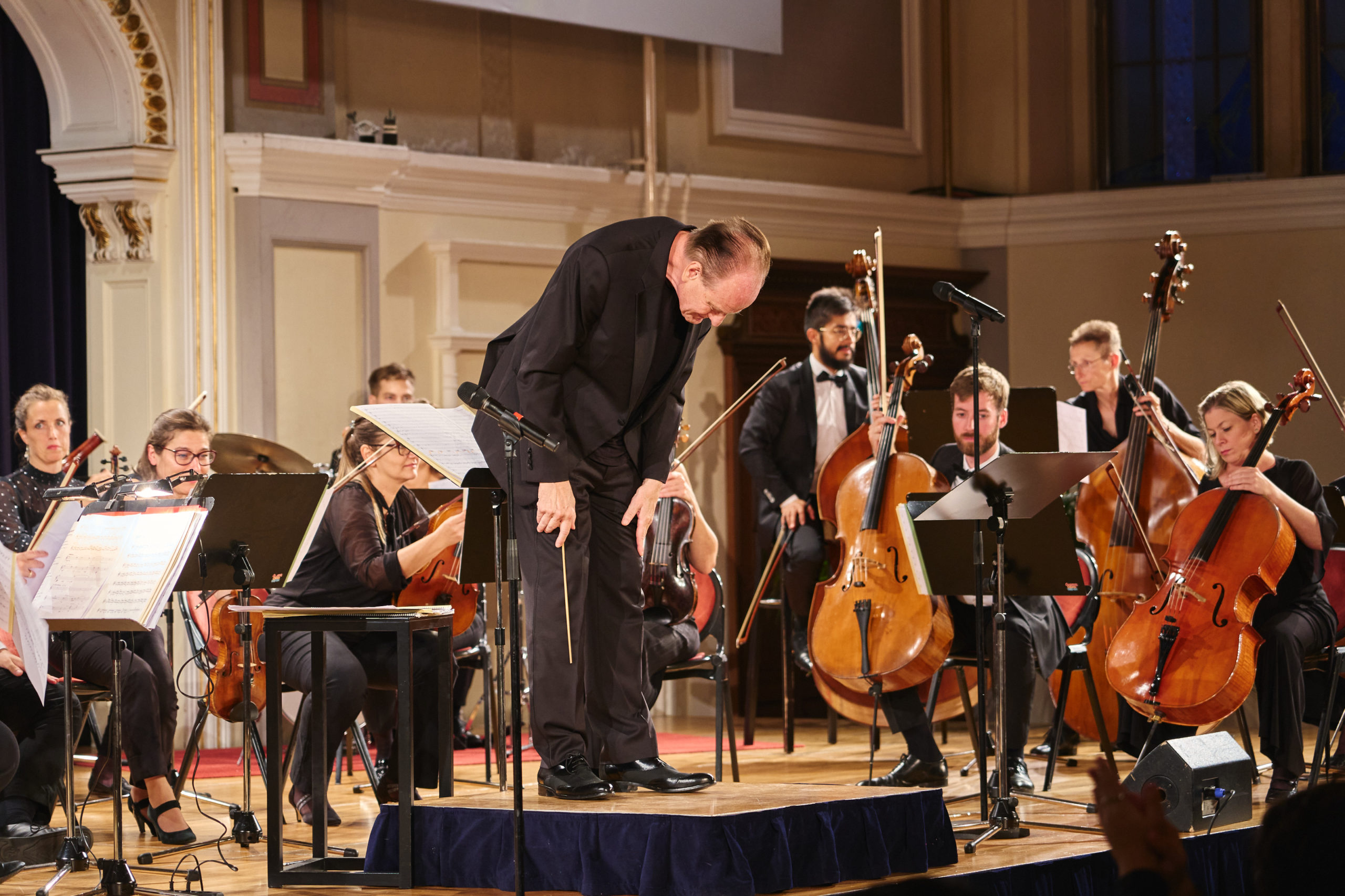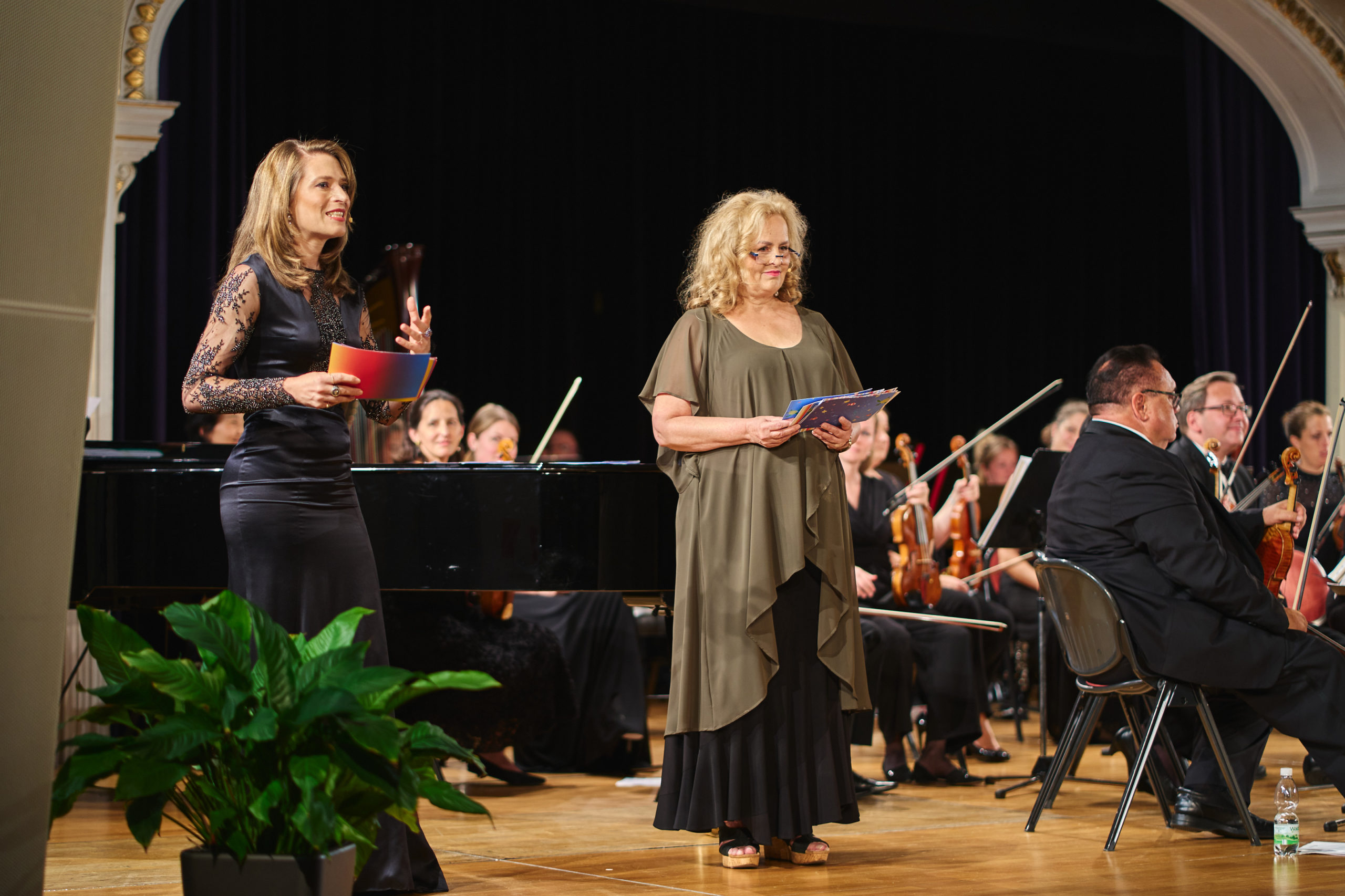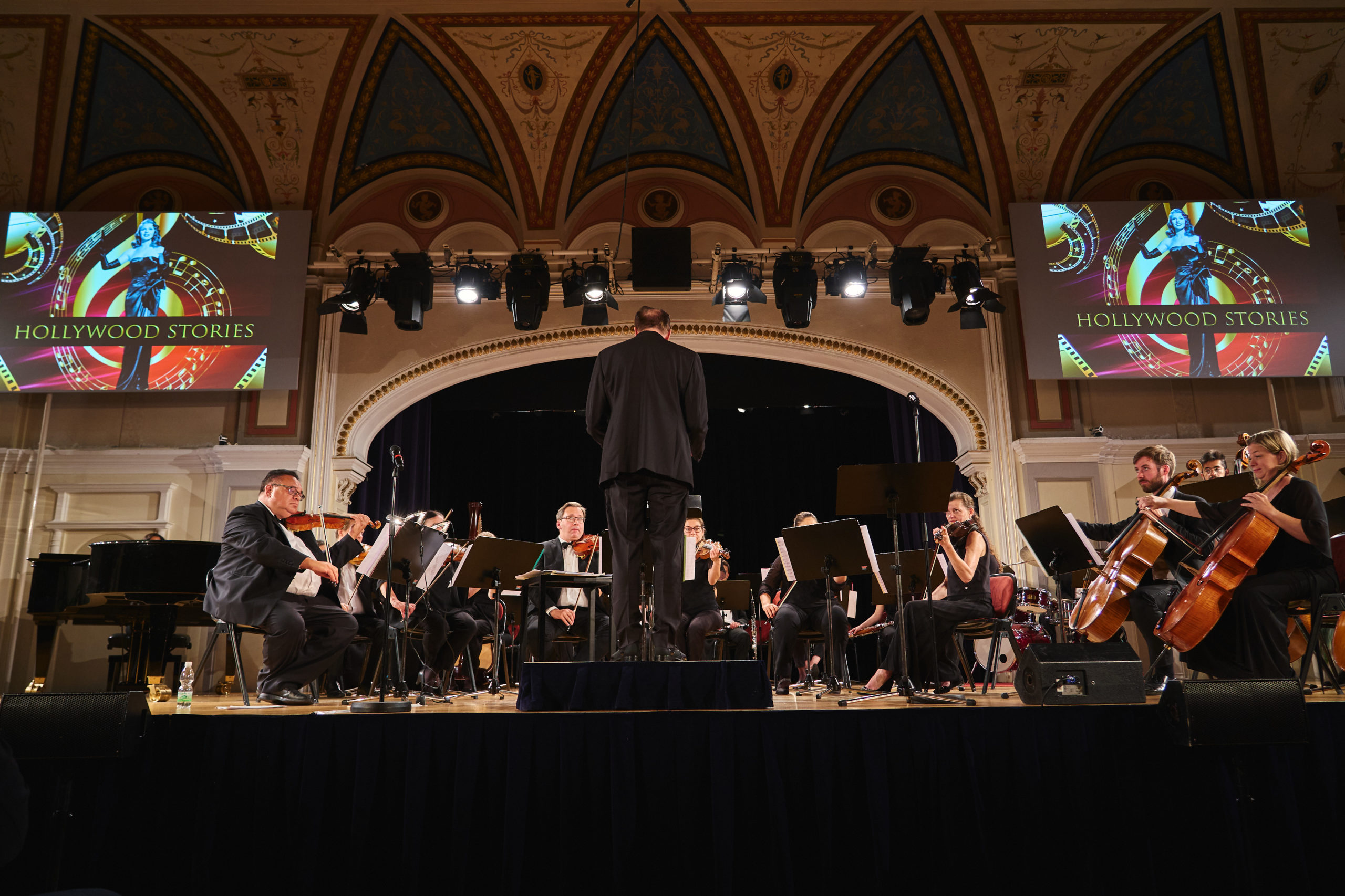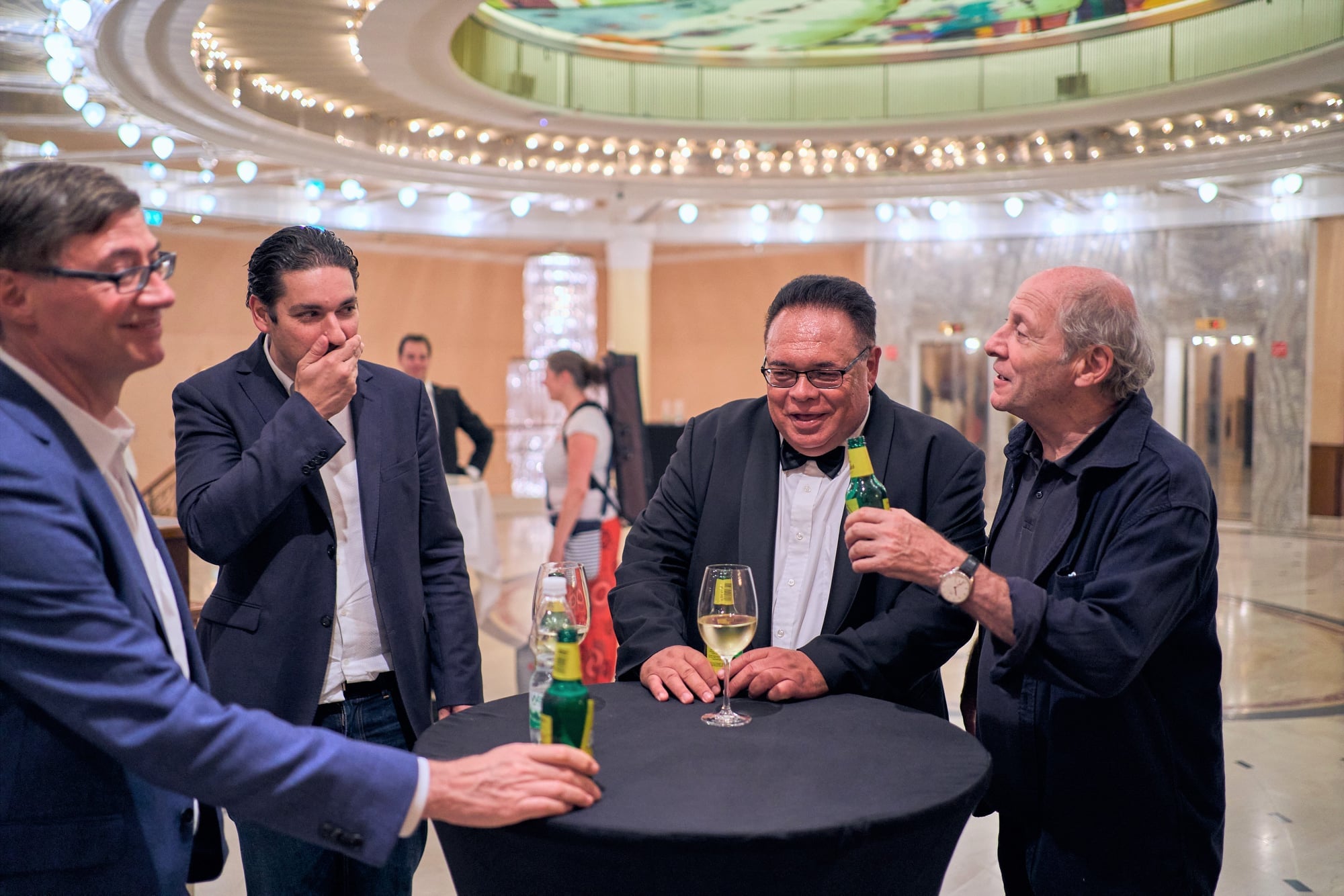 Celebrating our 10th anniversary with our beloved faculty member CONRAD POPE !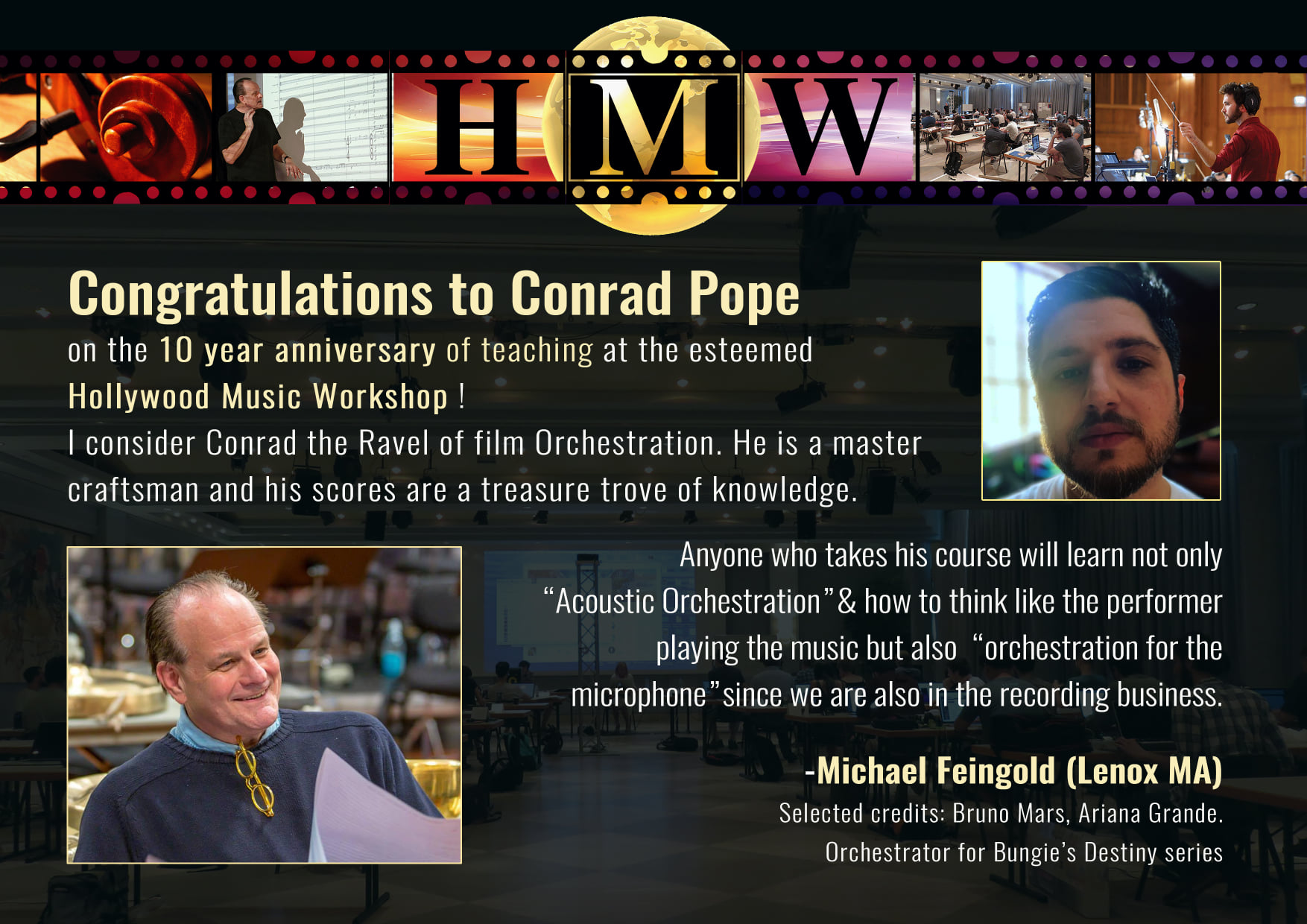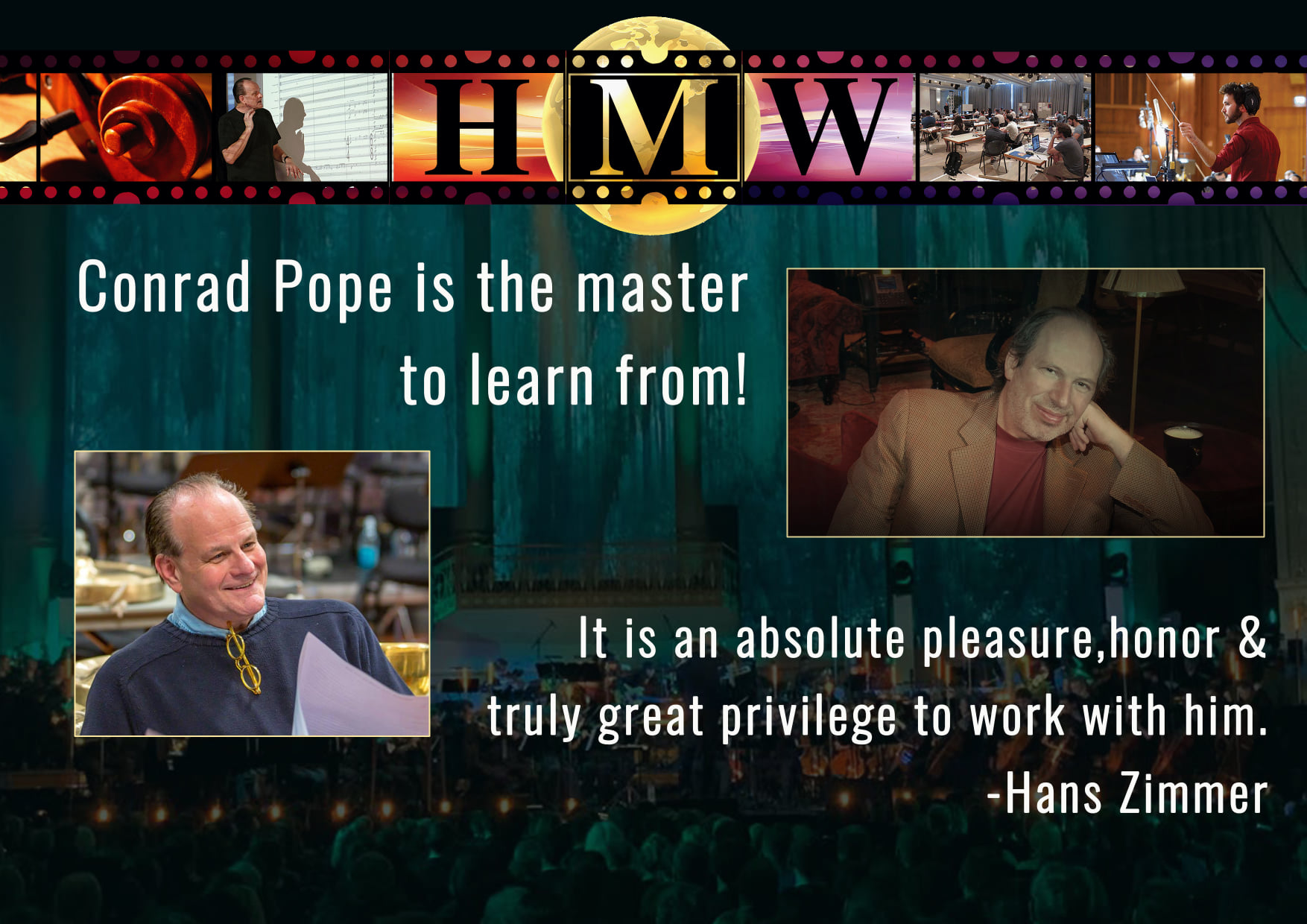 Orchestration & Arranging with Conrad Pope & Nan Schwartz 2021
Our highly successful hybrid
masterclass
with
HMW's beloved lecturers, Conrad Pope & Nan Schwartz
, has now come to its end. This year's installment has been a very special one as it marks a new era for our workshop with its combined live and online participation. We're thrilled and honored to welcome participants from all over the world to our home location of Baden/Austria, to celebrate great music-making and to learn from composers who are true masters of their craft.
HMW welcomed as its highly esteemed guest, Hollywood composer Junkie XL aka Tom Holkenborg. Tom was incredibly generous with both his time and knowledge by sharing sincerely helpful life lessons with our audience
"Orchestration & Arranging with CONRAD POPE & NAN SCHWARTZ was the first hybrid class – with a presence in the class room in Baden and people on Zoom. The HMW-team did an amazing job to combine the two into one seamless experience. We on Zoom felt like being there. It still can't replace the real face to face experience & all the amazing networking and discussions that happen in breaks and after class, but it got very close.Could not have been any better! Kudos to the team for this amazing job!

– Colja Boennemann / GERMANY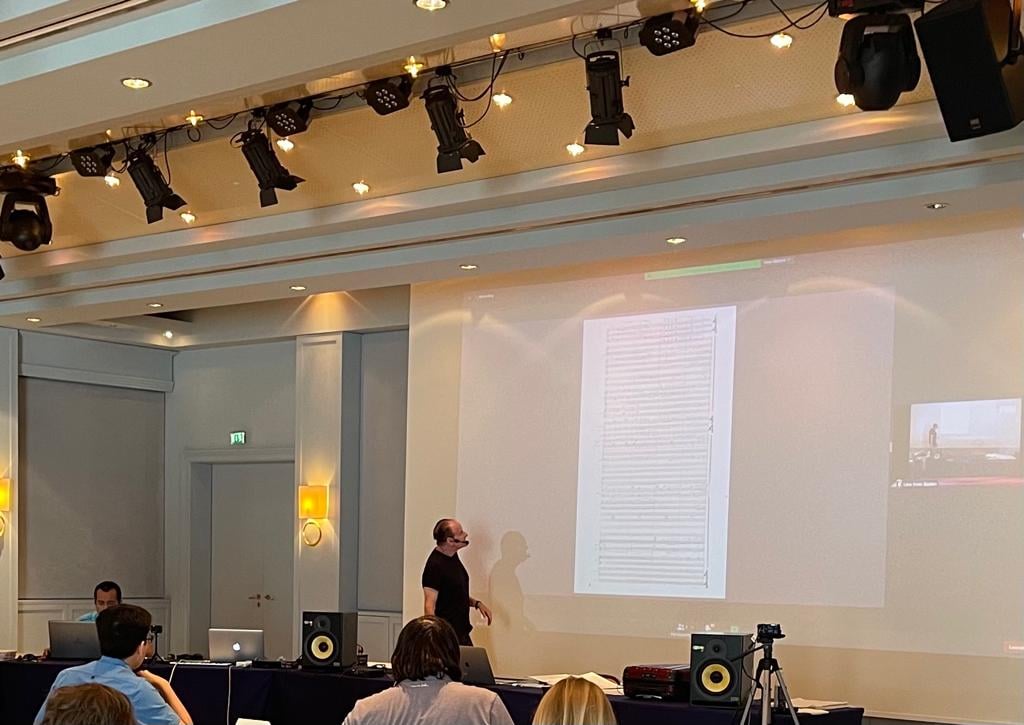 We want to thank Tom Holkenborg for finding the time amongst his busy schedule to join us for a very rare and unique appearance at our workshop !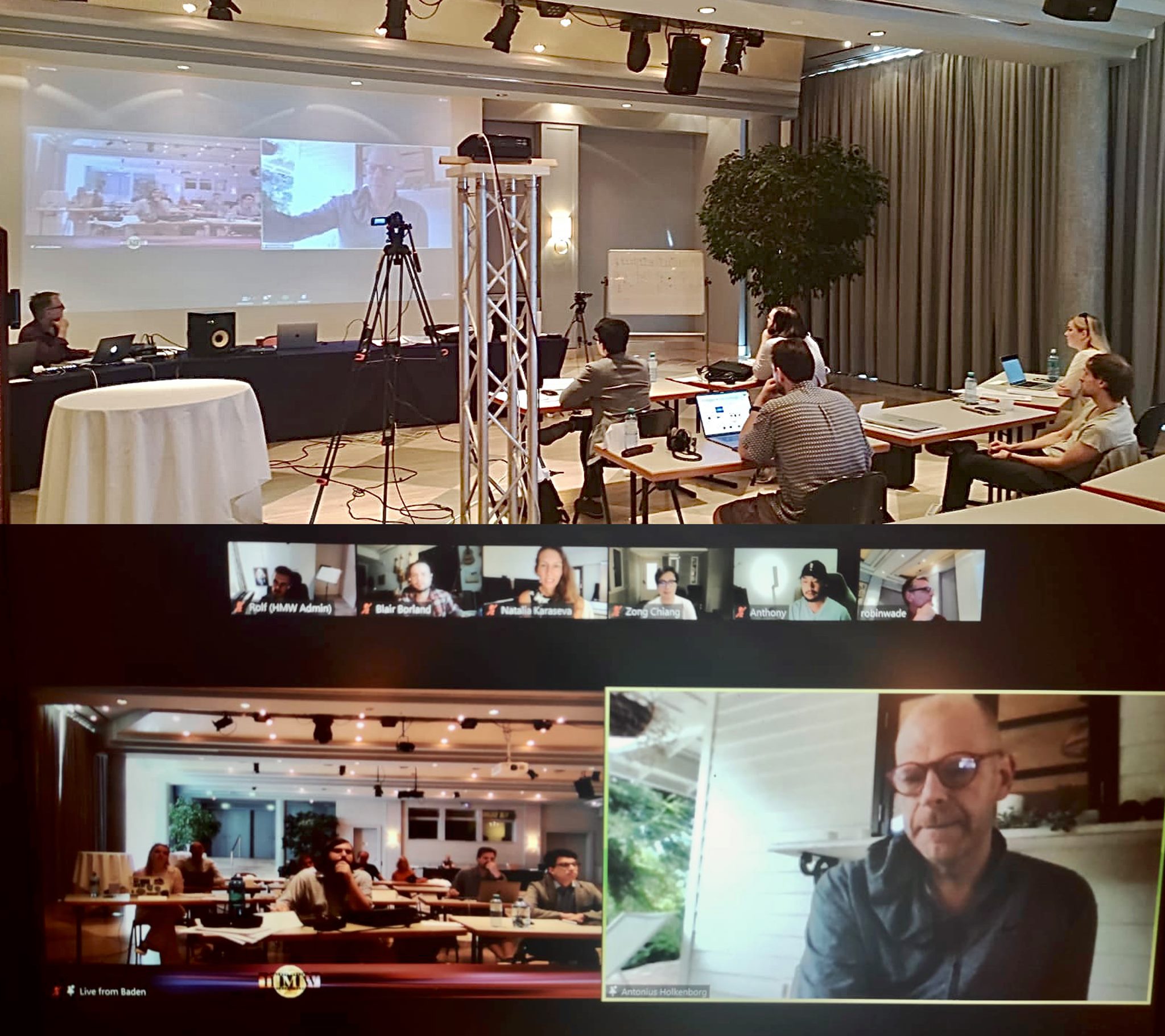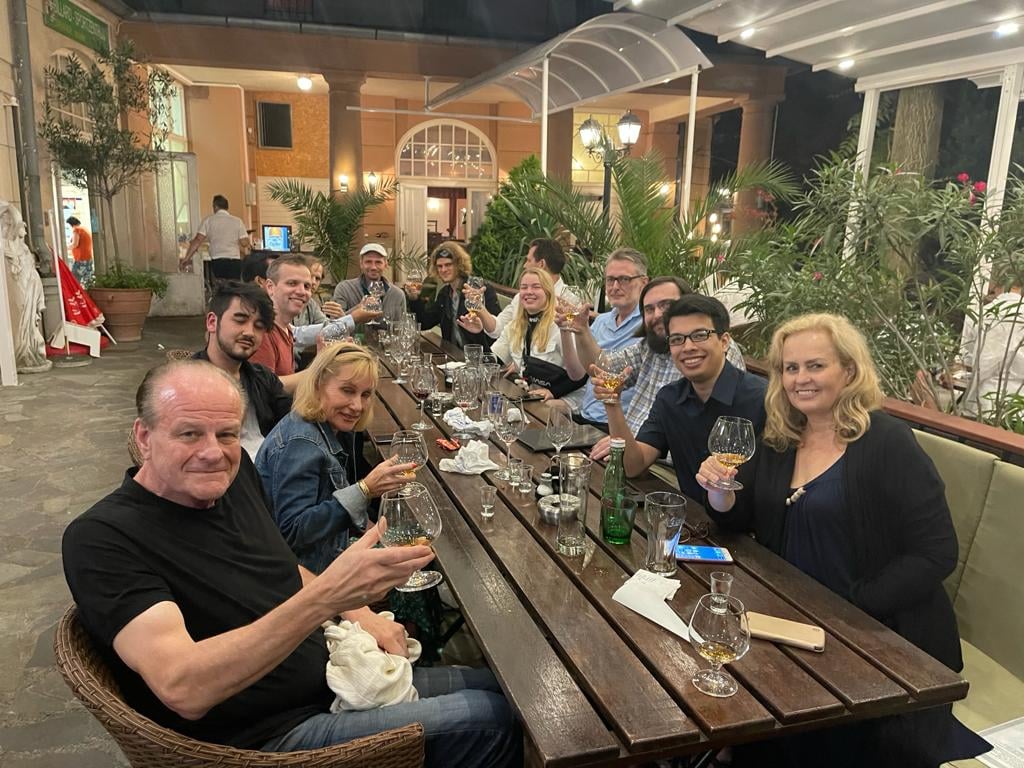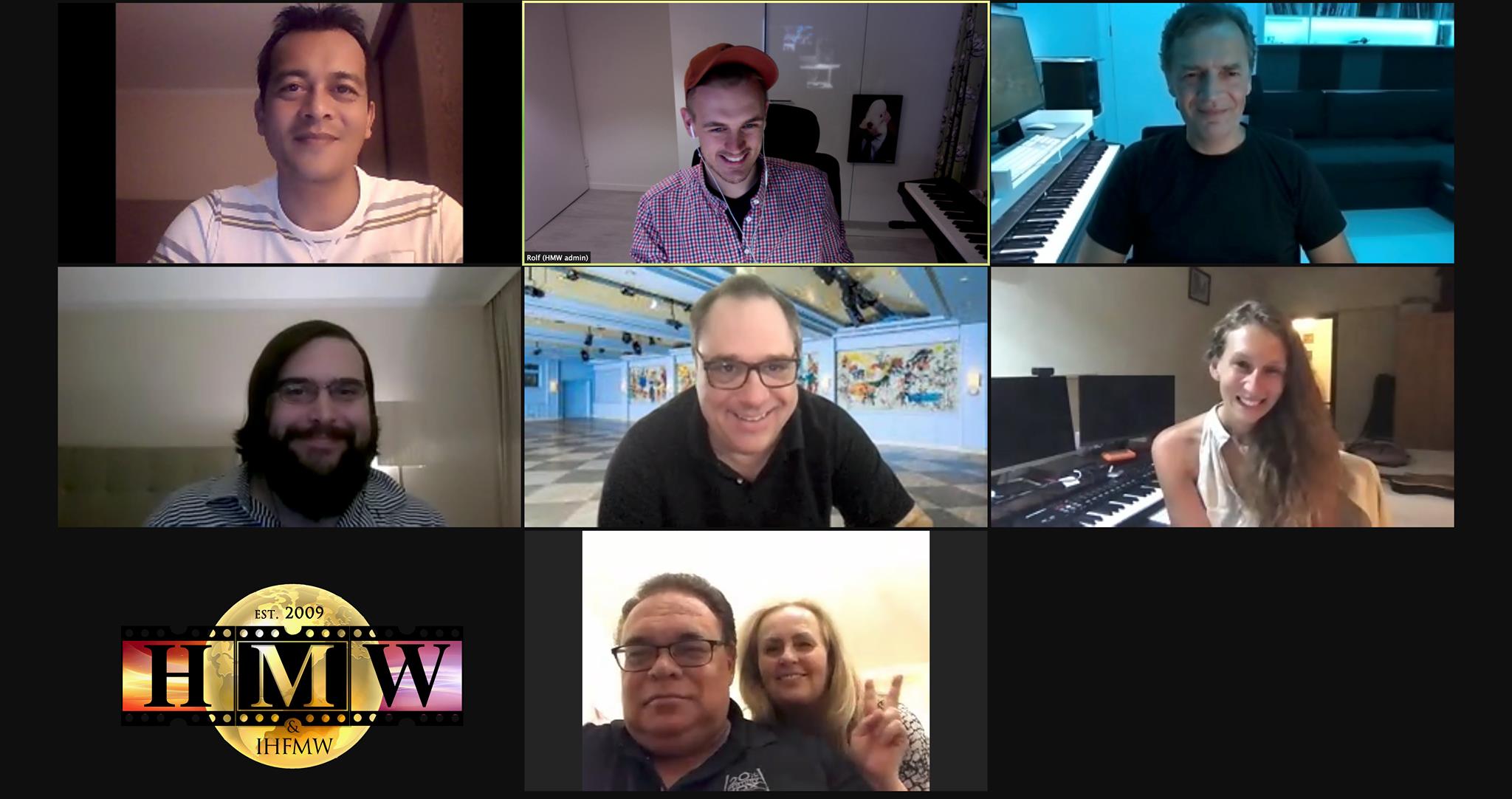 Professional Recording Session 2021
at MG-Sound Studios (Vienna) yesterday. One of our participants, William Weitzel, shared the conducting podium with Maestra Amy Andersson for the recording of his piece "Trendsetters." HMW director Dimitrie Leivici served as the concertmaster of the HMW Studio Orchestra, which consisted of 35 of Vienna's top musicians. The session was supervised, supported, and commented on by our renowned "dean," Conrad Pope, and technical support was provided by Michiel de Boer on a high and very efficient professional level. Hollywood composer Joe Kraemer joined to support our staff via Zoom.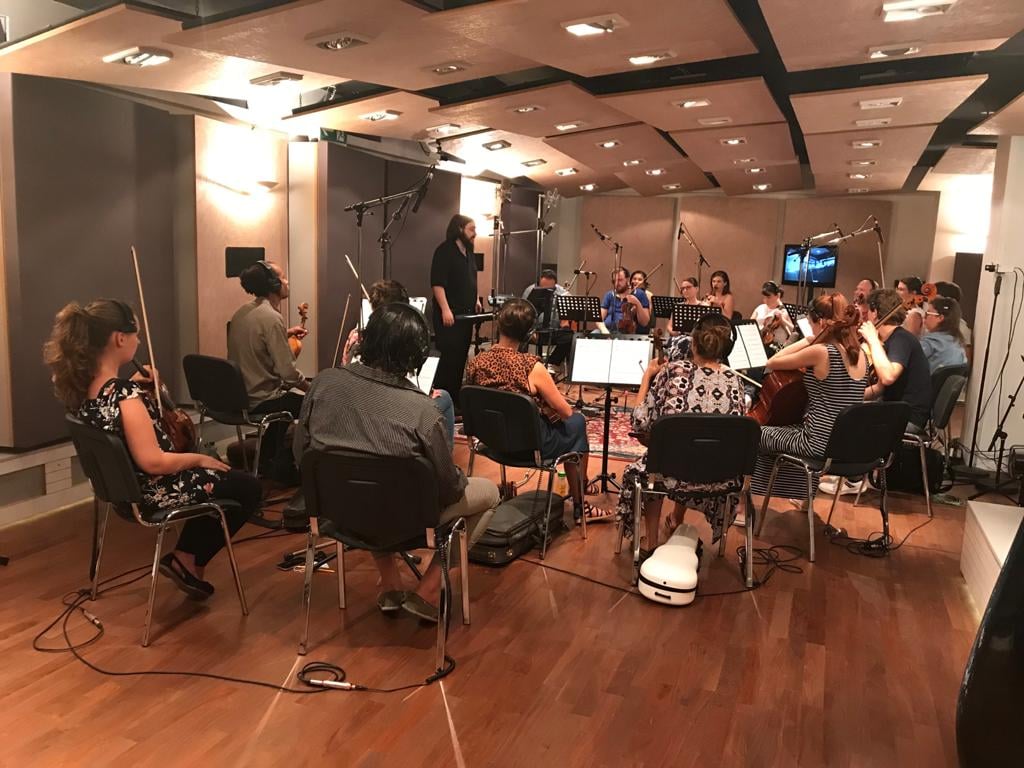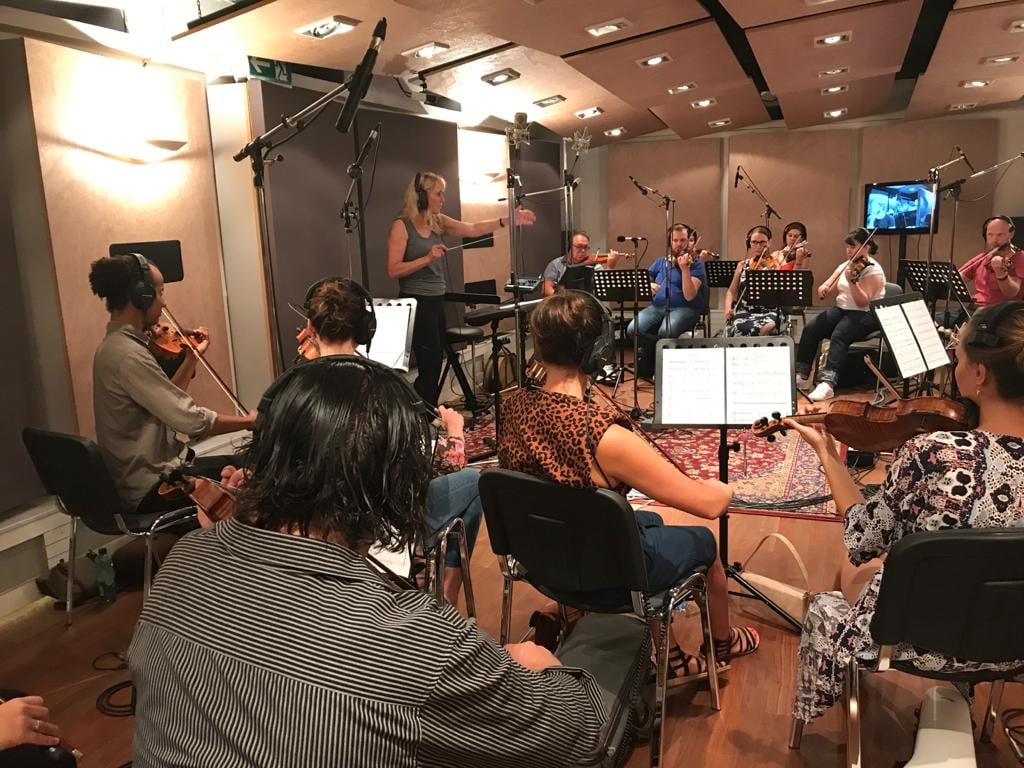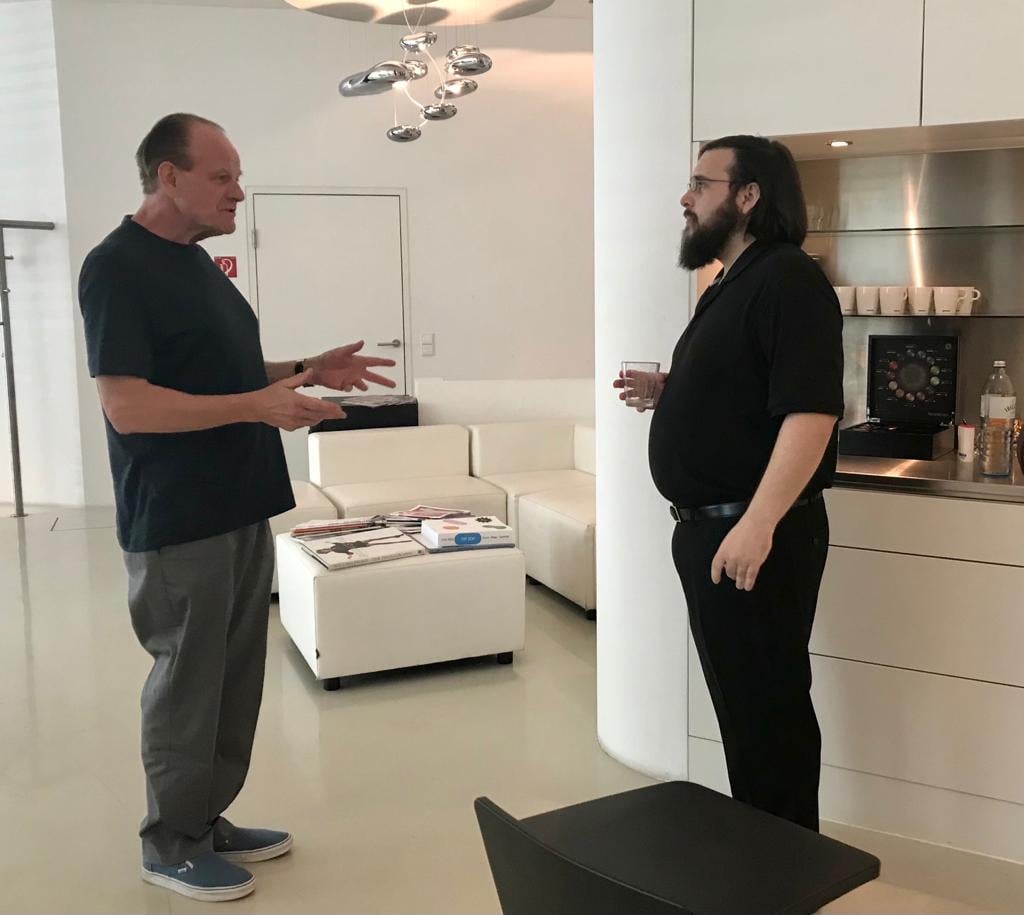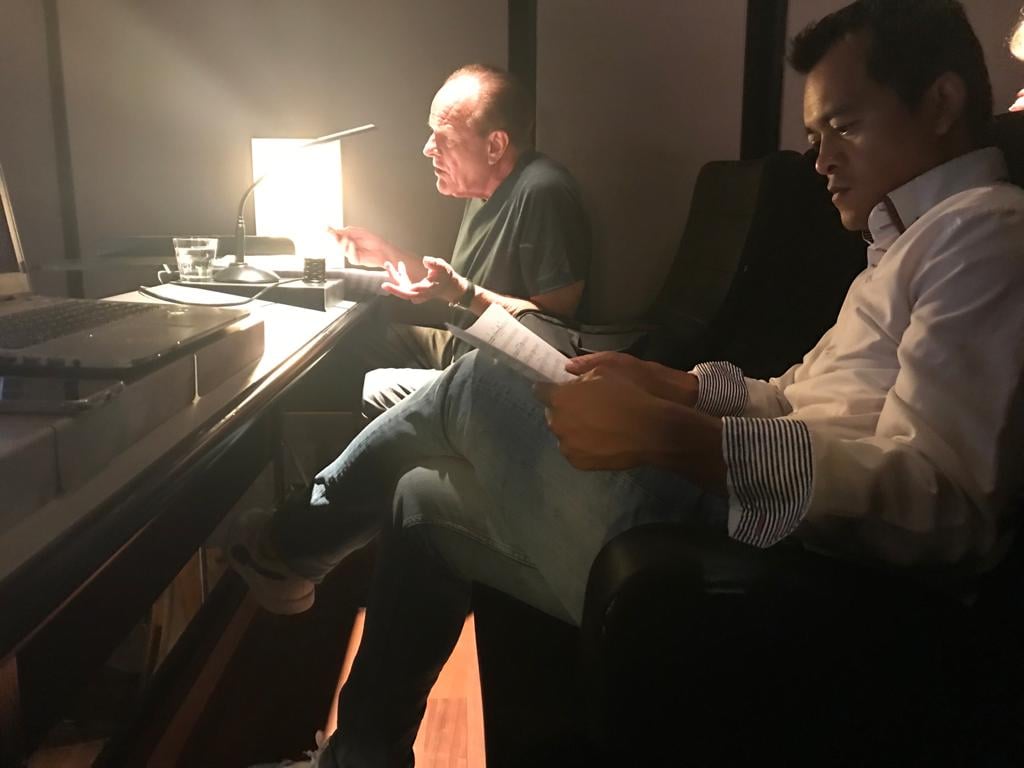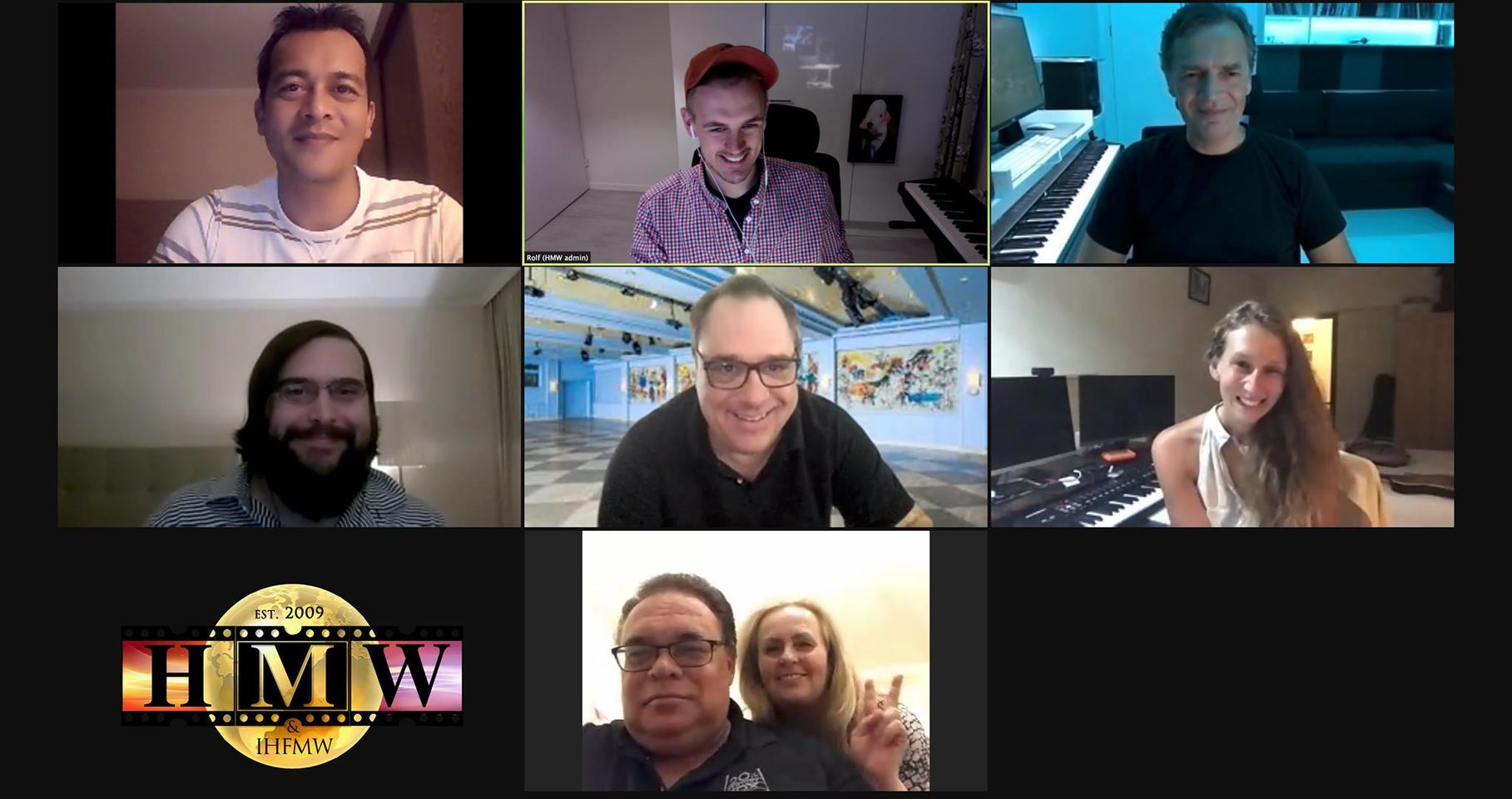 We have successfully completed the first workshop of our 2021 summer program. Our first renowned lecturer of our Baden film music workshop, Hollywood composer JOE KRAEMER, was welcomed by an intrigued and highly focused class for this rare and exclusive teaching setting in which Joe provided each participant the opportunity of scoring an actual, 15-minute short movie. The task of scoring the picture will continue past these regular teaching days as the participants will work closely with Joe throughout the fall to finalize their scores.It is only at the Hollywood Music Workshop that you can get such detailed information straight from the source and their undivided attention for each and every question you might have. We wish to thank Joe for his efforts and his generosity and also our enthusiastic participants for joining this course. 
Latest IHFMW Masterclasses June 2021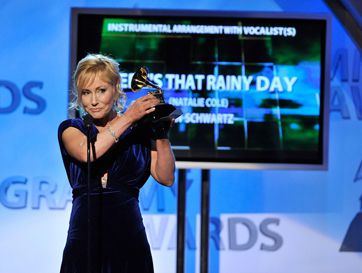 "COMPOSING FOR MUSICAL THEATRE"
Scheduled at JUNE4-6,2021  "Composing for Musical" was presented by GRAMMY Award winning and HMW faculty member NAN SCHWARTZ !
"SCORING FOR DOCUMENTARIES"
Scheduled at the
JUNE 27-29, 2021
this highly creative topic was presented
by EMMY nominated guest lecturer & renowned composer for documentaries MIRIAM CUTLER !
Listen to HMW faculty member
Joe Kraemer's soundtrack for
"Emily and the Magical Journey"
Release date April 30, 2021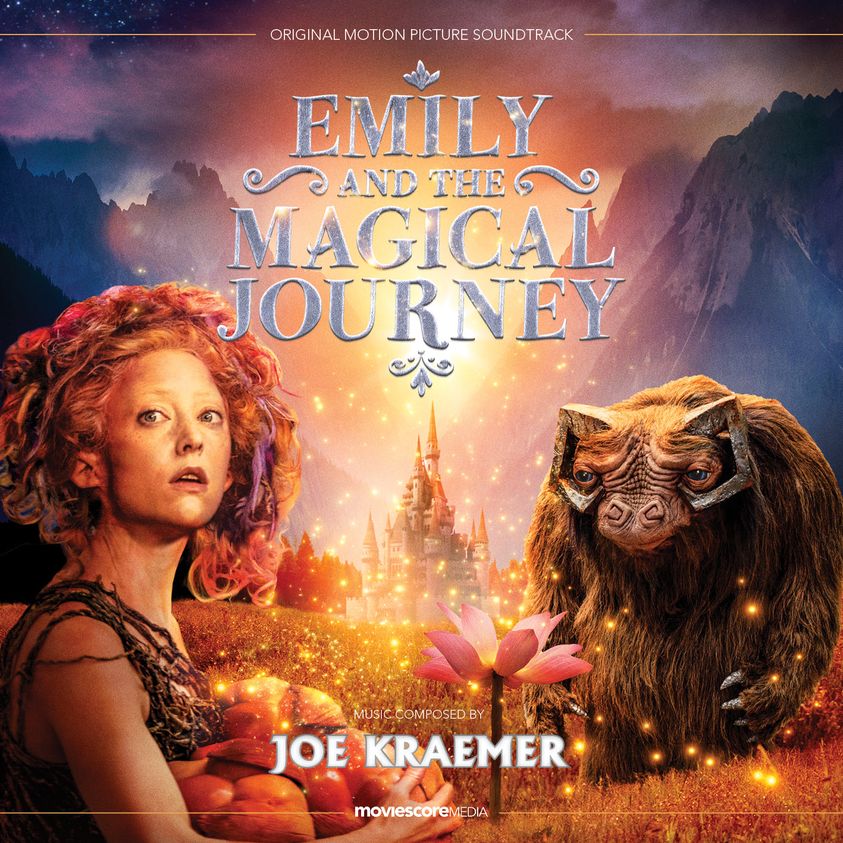 Proud to share the latest project by HMW faculty-member NAN SCHWARTZ !
"In the wash" –  a musical composed by Nan Schwartz with lyrics by Lorraine Feather.and showcased in Paris 2019 at Theatre Marigny .
Enjoy this podcast produced by Kate Mishkin featuring narration by former HMW participant Jehan Stefan.
Congratulations from HMW to a great piece of music !

Click to listen on Soundcloud ..
HMW is congratulating alumni

Lorenzo Ferrero

for his winning of a Latin Grammy!
We wish him all the best and continued success in his outstanding career!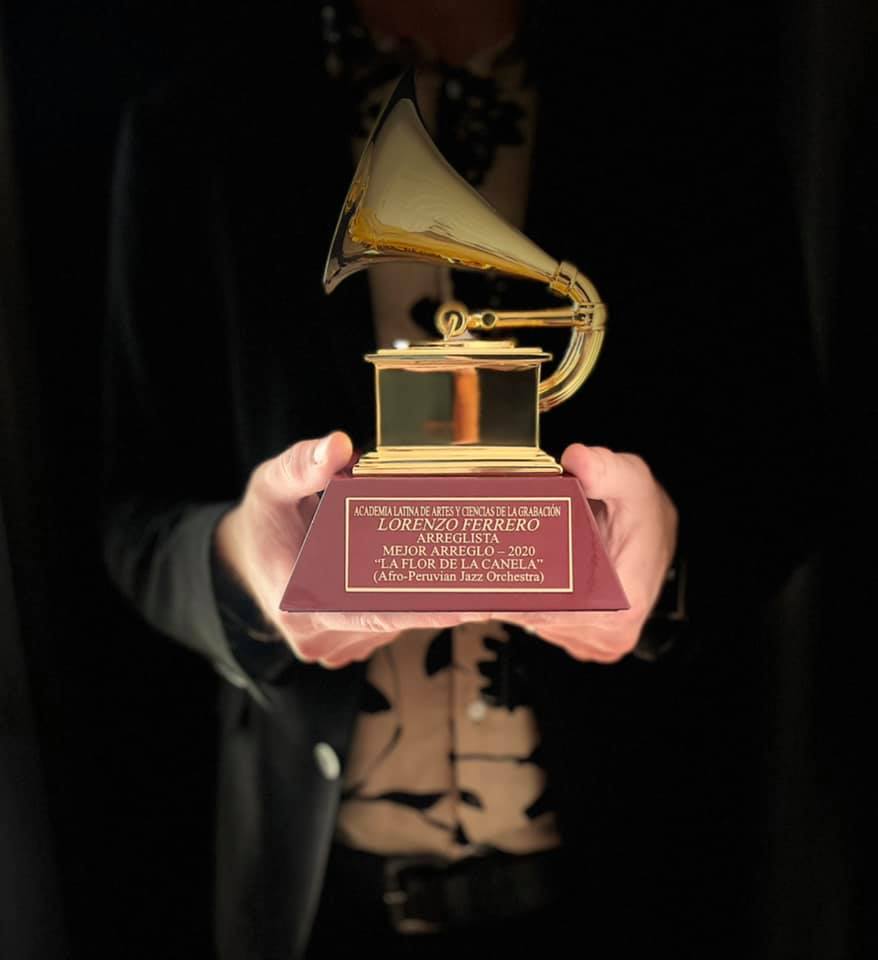 New website of HMW Faculty member NAN SCHWARTZ ONLINE NOW !
Visit her improved and updated website, where you can find new music, videos, and latest news, including collaborations with lyricist Lorraine Feather on TWO new musicals, "In The Wash" and "The Grammarians."
For those of you curious about the music, here's a podcast showcasing songs from "In The Wash.

Holiday Celebrations 2020 on Zoom

Hollywood Music Workshop celebrated on Saturday Dec. 19 via Zoom
with all of our faculty and many of our past, present and future alumni the ongoing Holiday Season! We looked back at some rare highlights of this past extraordinary year, talked about future plans for the Workshop and cherished the camaraderie of film music enthusiasts from all over the globe.
We're very thankful to have welcomed over 90 participants during yesterday's Holiday Celebration event. A warm thank you to
John Lunn , Garry Schyman, Jo Wallfisch, Roman Kariolou, Joe Kraemer, Nan Schwartz and Conrad Pope
!
Merry Christmas, a Happy, successful New Year & foremost – stay safe !
Hope to see you all in 2021 !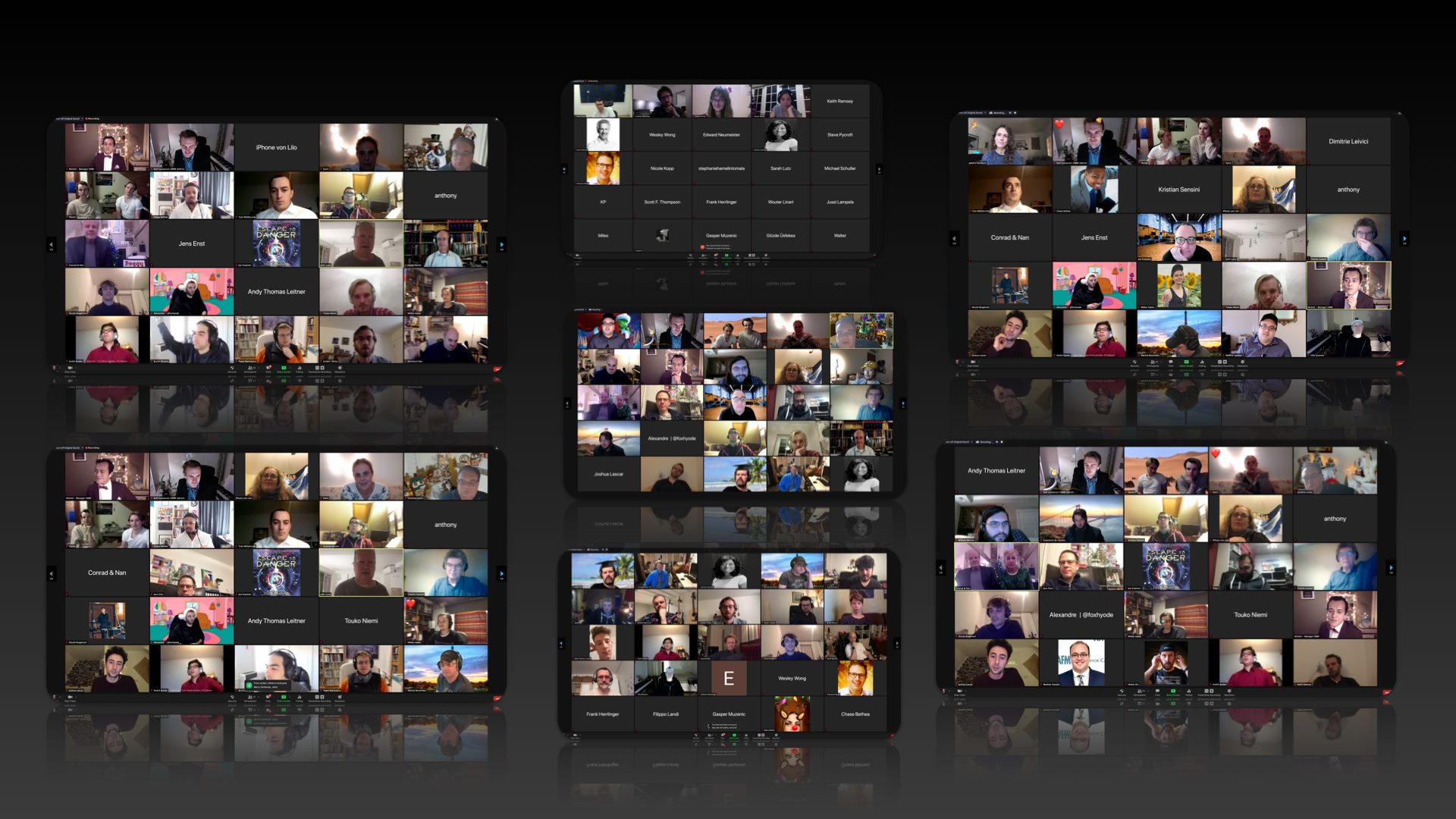 Impressions of our "Hollywood in Baden" Concert 2020
Despite the current global situation, Hollywood Music Workshop, under the inspirational guidance of its director Lilo Bellotto was able to organize this beautiful concert & HMW 2020 afterparty outside our usual home Casino Baden.
The  marvellous Hollywood Jazz Combo took us back to the golden years of Hollywood featuring the wonderful arrangements of Grammy Award-winning composer/arranger Nan Schwartz. Our lovely soloist, soprano Arabella Fenyves guided us through England with melodies from "Downton Abbey" written by John Lunn. And last but not least the young upcoming composer Roman Kariolou presented Viennas enchanting versatility with his music to the TV Series "Hotel Sacher", "Maria Theresia" and "Vienna Blood"

A big ''Thank you!'' to the Hollywood Jazz Band, Arabella Fenyves, Nan Schwartz, Roman Kariolou, John Lunn, our partners Casino Baden, City of Baden, the government of Lower Austria & all participants for making this possible.

Looking forward to next year!
(Photos by Martin Zeman!)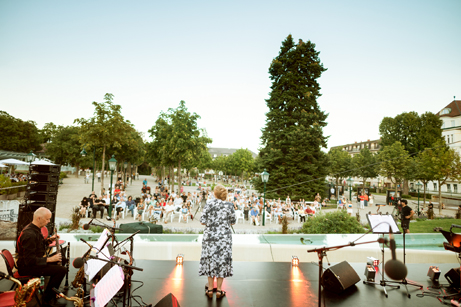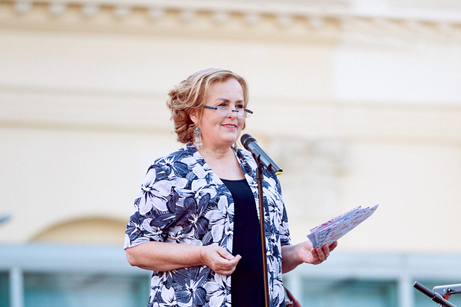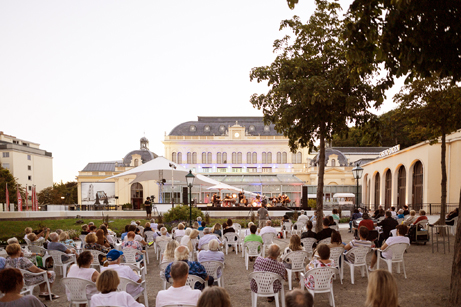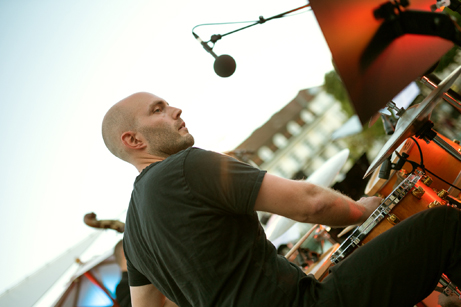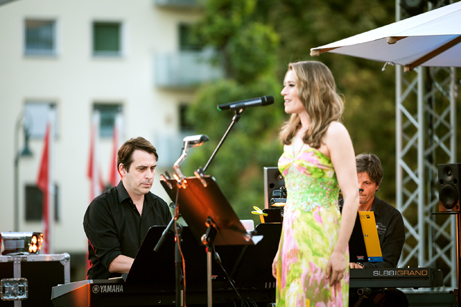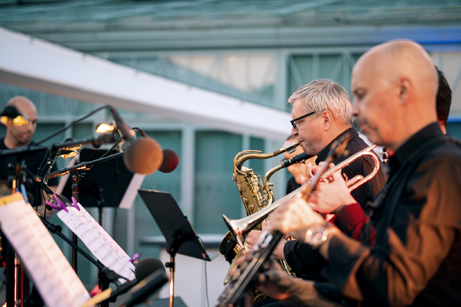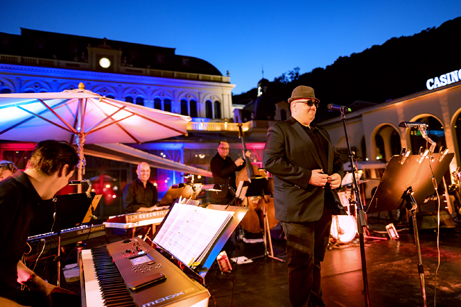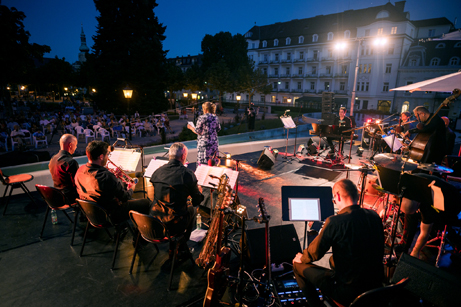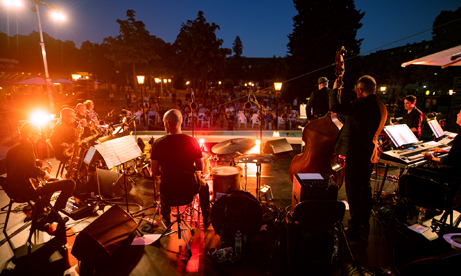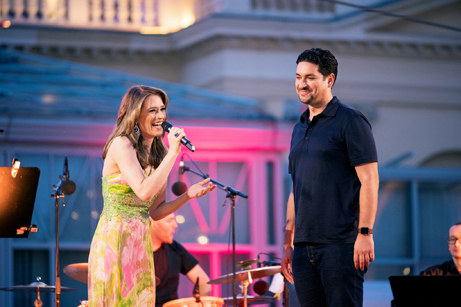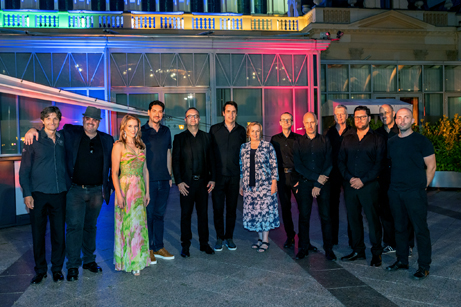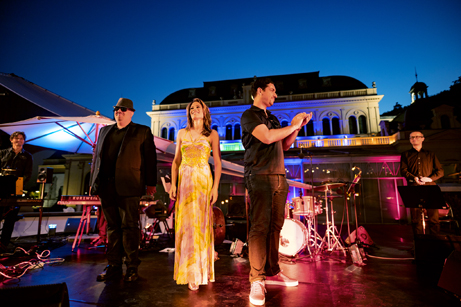 Some reviews about the HMW 2018-2019

"Huge thanks to all of you! CONRAD's and NAN's class was beyond amazing and getting to know all of you was an honor.
Hope to see you next year!
– Rolf Gustavson (FINLAND)
"Having a great time attending the Hollywood Music Workshop in Baden, Austria, for the second year in a row. Last week I had the privilege to meet and learn from legendary game composer GARRY SCHYMAN (composer of Bioshock) and this week with the great JOHN LUNN (composer of Downton Abbey). It's really just incredible to be here, to meet and get to know other composers, and to study with experienced and accomplished professionals in the industry. Here's me at our visit to Synchron stage in Vienna to observe a recording session with Garry Schyman."
– Keith Ramsey (USA)
"Yesterday we covered a handwritten score of CONRAD. Really great to see how he has done things and the clarity of handwriting are marvelous!! Nothing beats a old pencil and paper!"
– Michiel de Boer (NETHERLANDS)
"Amazing composers JOEKRAMER ("Mission Impossible") and JOHN LUNN ("Downtown Abbey")! What a great company!!!"
– Vanessa Garde (SPAIN)
"It's been an amazing days with you guys! SO MUCH FUN!"
– Kasidit Yimsiri (THAILAND)
"GREAT WORKSHOP with JOE KRAEMER. Awesome music and person!!"
– Mulya Sari Dewi (INDONESIA)

"Tomorrow will be the last day of Hollywood Music Workshop in Austria and oh boy what a week has it been. There's a crazy amount of information to be processed and soooo much new stuff to learn. The boost of inspiration is unreal. "
– Mikki Rousi (FINLAND)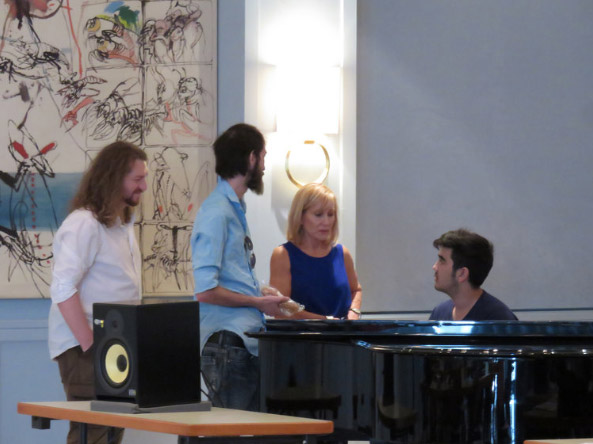 What an experience! Learning from Hollywood´s masters who are not only the best in their craft, but who are also such musically sensitive, wonderful, real human beings!
— Joel Nah, Singapore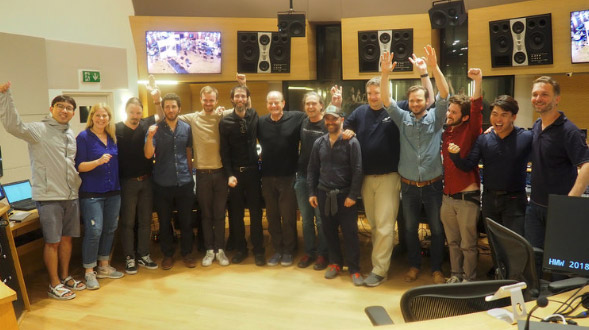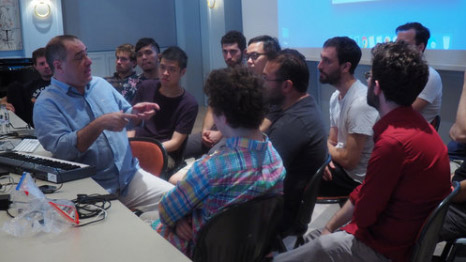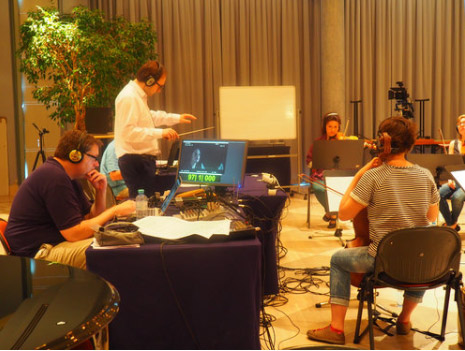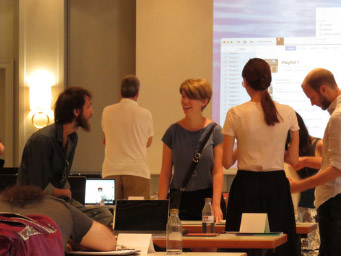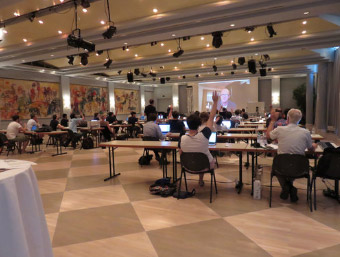 A glance at all the countries
our students have been coming from
through all the years …
Hollywood Music Workshop 2018
"Social Events"