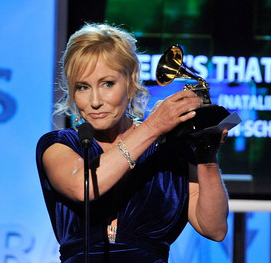 Grammy winner, five-time Grammy nominee & seven-time Emmy nominee 
NAN SCHWARTZ is considered a pioneer for women composers !
Her family legacy includes a father who played with the Glenn Miller Orchestra and performed on nearly every Frank Sinatra recording, and a mother who performed such chart-topping hits as "Chicago" and "On the Sunny Side of the Street" for musical legend Tommy Dorsey before going on to work as a studio singer for Frank Sinatra, Dean Martin, Judy Garland, Henry Mancini, and Sonny and Cher, among others.

But Nan Schwartz didn't immediately set out to follow in her parent's footsteps, instead opting for a career in television production. A skiing accident was the catalyst that brought her back to the world of music. While on the mend, she began private studies to pursue her secret ambition: film scoring, a profession previously inaccessible to women. Utilizing her lifelong devotion to music and her experience studying piano and singing professionally from an early age, Nan embarked upon a successful career that has seen her score and orchestrate music for countless memorable television series and films, including In the Heat of the Night and Argo.
Award recognition quickly followed Nan's pioneering efforts in the industry leading to a record 7 Emmy nominations, a Grammy win for her elegant and sophisticated arrangement of 'Here's That Rainy Day' for Natalie Cole, two 2014 Grammy nominations (Gianmarco & Amy Dickson), and a 2013 Grammy nomination (The London Symphony Orchestra). A proponent of melodic, harmonically-rich music, Nan's unique style has made its mark in film, television, the recording industry,  as well as the concert stage.   Nan's diversity and depth of experience in all musical venues – themes, songs, episodic television, and film – from all-electronic projects to hundred-piece orchestral settings- have helped create her sterling reputation as one of the world's most talented composer/arrangers.
Highlights from Nan's diverse career include:
Stylistic scores for a number of television movies and series including "In The Heat of The Night."
Grammy Award winning arrangements for Natalie Cole, Grammy nominations for arrangements for Peruvian pop singer Gianmarco (2013 Latin Grammy Album of the Year nominee), Alto Saxophonist Amy Dickson, the London Symphony Orchestra, and John Williams and the Boston Pops Orchestra. She has also had a hand in the orchestration of many film scores including 'Godzilla', 'Harry Potter and the Deathly Hollows, Part I', 'Argo', 'The Life of Pi', 'Julie and Julia', 'My One and Only', 'The Curious Case of Benjamin Button', 'Uptown Girls', 'Freedom Writers', 'Bobby', and 'Lions for Lambs', among others.
Numerous arranging credits for artists Ray Charles, jazz clarinetist Eddie Daniels, jazz vocalists Mark Murphy and Kevin Mahogany, opera singer/crossover artist Thomas Quastoff, and trumpeter Till Brönner.
Schwartz has had many commissions in the songwriting field including the Emmy-nominated "All The Days", collaborations with the iconic lyricist Paul Williams, and across the Latin music market. She's also had symphonic commissions from The New American Orchestra, Doc Severinsen, and The Henry Mancini Institute Orchestra, and has conducted orchestras in America and Europe, including the Deutsches Symphonie Orchestra of Berlin.
We are proud to share the latest project of  NAN SCHWARTZ !
"In the wash" –  a musical composed by Nan Schwartz with lyrics by Lorraine Feather.and showcased in Paris 2019 at Theatre Marigny .
Enjoy this podcast produced by Kate Mishkin featuring narration by former HMW participant Jehan Stefan.
Congratulations from HMW to a great piece of music !

Click to listen on Soundcloud ..
Follow us on social media to get the latest news & informations on events & courses.
To subscribe for our monthly Newsletter please click here ..